Coloured mascaras! I am so excited! Colourpop Cosmetics recently came out with 7 new coloured mascaras – 1 black and 6 colours. These are the Colourpop BFF Mascaras. Coloured mascaras are not that prevalent on the market in the US and for the most part, companies bring out black (and variations of black), brown, navy and maybe a burgundy. Oftentimes, brands will bring out a limited edition coloured mascara collection for summer, and this is a permanent line, so that makes me very happy.
If you are interested in looking at my video review instead, click here…otherwise check out the review below.
BFF Mascara Details
There are 7 shades. I bought 5. I did not get the black shade nor the yellow shade. They are available on the Colourpop website and they retail for $8 each for 7 oz. You can buy the entire set at a discount or there are lots of discount codes floating around on the internet (unfortunately I don't have one).
Colourpop claims that this product volumizes, lengthens and lifts lashes, using a unique nylon brush and does not flake. The formula is also buildable.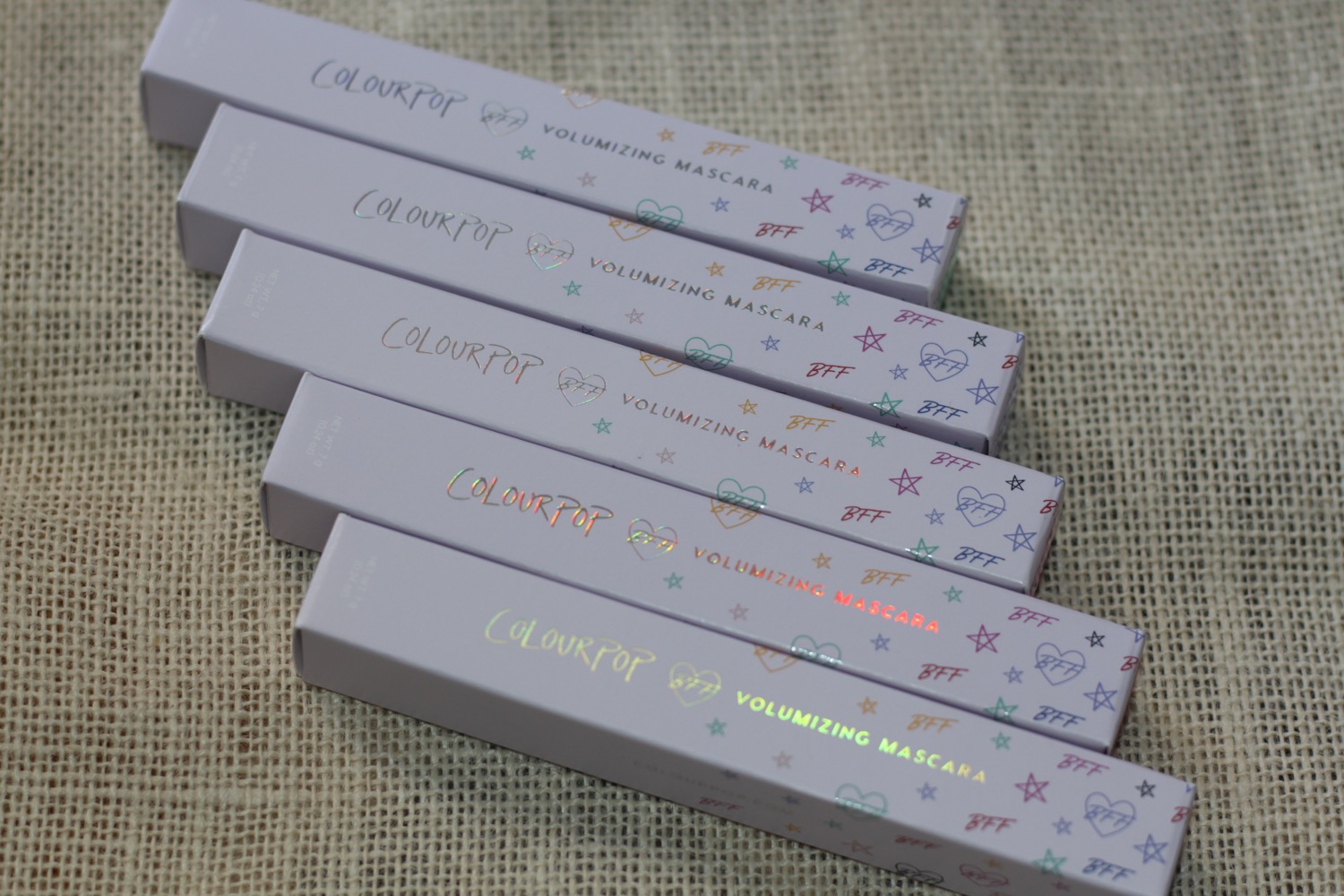 BFF Mascara comes in a pale lavender box with multicoloured foil and iridescent text, mimicking the colours of the mascaras. The tube is made of white plastic with metallic foil matching the colour of the mascara.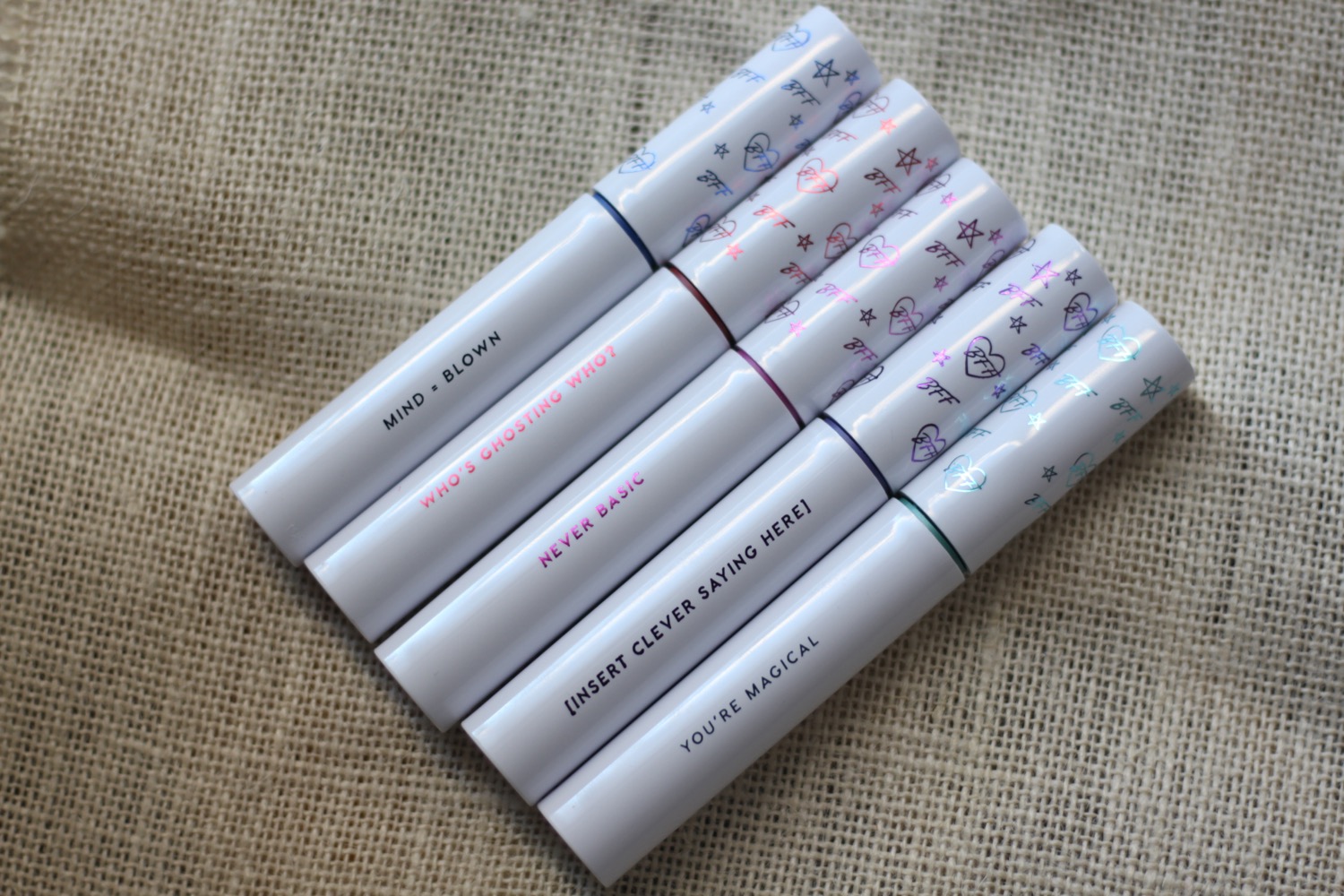 The BFF Mascara has a large bristle brush with shorter bristles in the middle of the brush. The formula has a slight sheen to it and was not too thick.
BFF Mascara Pics and Results
Blue Ya Mind – described as a cobalt blue. Probably my favourite as it is the richest of the colours. Very bright, brighter than the L'Oreal Voluminous Mascara
Left on Red – deep red, not to warm, not too cool. Just red. Also not that bright fire engine red. This looked more subtle on the lashes.
Pink, Inc – midtone pick colour. Not neon, more like a deep bubble gum pink. Also looks subtle on the lashes
Purple Prose – described as lavender. This is very pastel and really liked this one as well. Popped against my skin
Kiss N'Teal – bright, pastel teal. More green than blue. I also really like this one.
Overall, I was pleased with these mascaras, especially considering that they are under $10. My favourites were the cobalt blue, lavender and teal, because they stood out more on the lashes. They definitely gave good length and volume and separation, but I did not find that they were the most volumizing mascara that I have tried. I did not get any clumping so I was able to build it up as well. I did take it for a test run at a dance class and it held up quite well. The colour did not fade over time and I did not get any flaking. I will test this out in a warmer climate. Colour fade is one of my biggest issues with coloured mascara, it will look great in the tube but once you start wearing it, it becomes less noticable and this BFF mascara stayed true to colour.
BFF Mascara: Video
And I have a video!
A few tips
Apply the mascara using a mascara fan brush so that you can easier paint the colour on the lashes
Apply coloured mascara over a black volumizing mascara to intensify the colour.
I would definitely recommend getting this product, especially considering the price. I am going to have fun working with different colour combinations. I am impressed that Colourpop would bring out seven shades as their first foray into mascara.
Let me know if you would like to see some looks using these products.
Availability: Online at the ColourPop website, $8 each
Laters!
If you liked this post, make sure you sign up for my email newsletter by clicking HERE! Get the latest curated makeup, haircare & skincare news and see what beauty products that I loving at the moment!
FTC Disclosure: Products were purchased by me, Noire Tropical Beauty. All opinions expressed are 100% honest and my own. I have not been compensated for this review. For more information, please see my Disclosure Policy.