The brand that shook up the beauty world! Fenty Beauty By Rihanna. I have been in the beauty game for a long time. I have been obsessed with beauty products for an even longer time. There were times that I spent all day online refreshing the comments on my favourite makeup forums waiting for the latest leaked news on upcoming collections. I don't think I remember this much hype and this much excitement and this much anticipation for the release of a new beauty line or product. But Rihanna's new entry into the beauty game garnered just that. Particularly amongst women of colour. Once the promo images started coming in and word came out that the initial launch will include 40 shades of Fenty Beauty foundation, myself and pretty much every medium to dark skin women of colour started saving our pennies. People with noticeable amounts of melanin still continue to struggle to find a sufficient variety of options when it comes to foundations. And I have heard all the excuses, none of them acceptable.
This a long post, and I have a lot to say. If you want to skip to different sections, use the links below:

Fenty Beauty launched on September 9th in the US and 17 other countries. It is available online and in some stores. There was a massive launch party at the Sephora Times Square in New York at midnight and the Bajan Princess was there! Based on the Instagram live feeds, it was pure bacchanal and chaos! I went to the Sephora a little later in the morning (about 8 am) after the initial crowds died down. Anyone that was in the store was at the Fenty Beauty display. The entire collection is gorgeous and well done. I'm just going to let you know right now that this hype is real. This is a legitimately good quality line. I was so excited and I was excited looking at other dark skin women being excited about makeup.
This is a permanent, complexion collection with the focus being on the skin and enhancing the colour and the glow. It was more recently announced that there will be a limited edition colour release for the holidays – eye shadow palette, lip glosses etc. But the core collection is going to be around.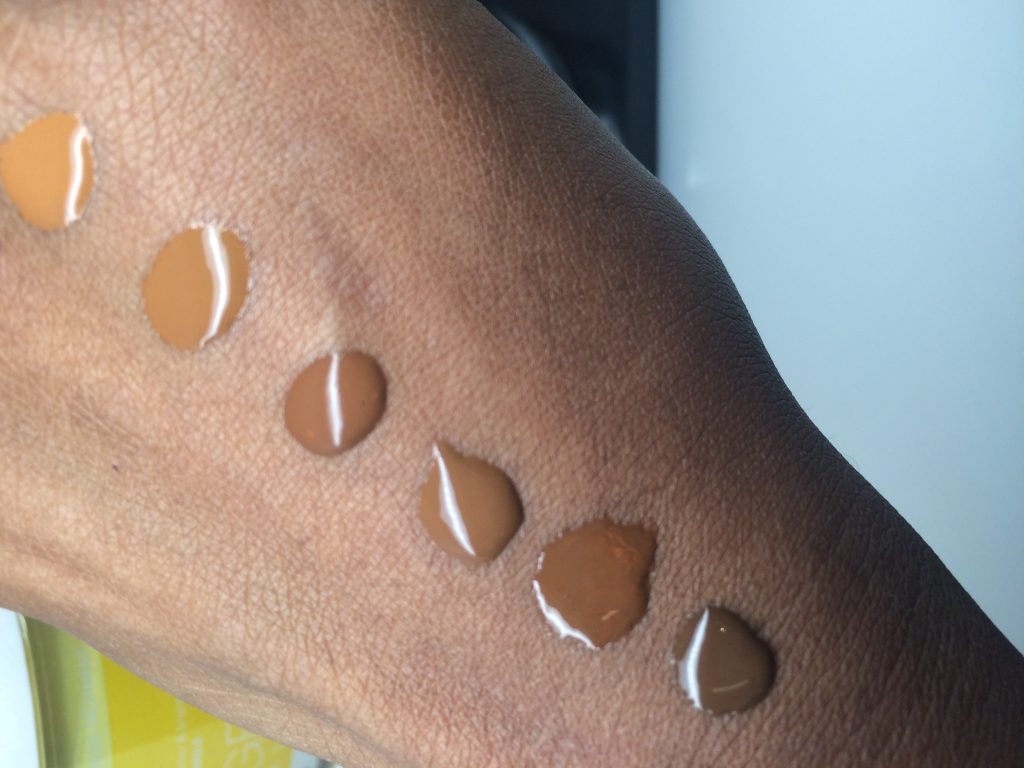 I picked up two samples of the Fenty Beauty By Rihanna Pro Filt'r Soft Matte Longwear Foundation in shades #470 and 480. The darkest shade is #490. There are a lot of options for medium to deep dark skintones. The South Sudanese/Australian model Duckie is one of the faces of the brand. And the more interesting thing about the shade selection is the inclusion of the subtlities in undertones. Warm, cool, neutral, less red, more blue, less yellow, more green. This makes FB one of the more unique compared to other brands that offer that wide of a range.
Fenty Beauty Foundation – Tips for buying
A few tips for buying the foundation:
If possible, get a few samples. Folks, including myself, have mismatched their shades. Rihanna really making us reconsider what our shades are. You may be actually a different shade to what you think you are.
Apply thin layers and let it dry for about 1-2 minutes to see if your foundation is a proper match. A lot of people have been saying that this foundation oxidizes. According to Fenty Beauty, it is not oxidizing on the skin immediately after you put it on the skin. As the product dries down, it reflects light differently and appears darker. This happens also with liquid lipsticks, cream eye shadows etc.
I think the interest and demand for the foundations have surprised everyone, even Fenty. Although they were adequately prepared for the the rush for products at the launch, the demand has surpassed their expectations. After launch day, Sephora stores in New York have pretty much been sold out of the shades in the 400 range. And most of the 300 range as well. Even online, they have sold out and restocked multiple times. So I suggest that you sign up on both the Fenty Beauty site and the Sephora site to get email notifications for your shade instead of stalking the stores.
Fenty Beauty Foundation – Video
Fenty Beauty Foundation – Description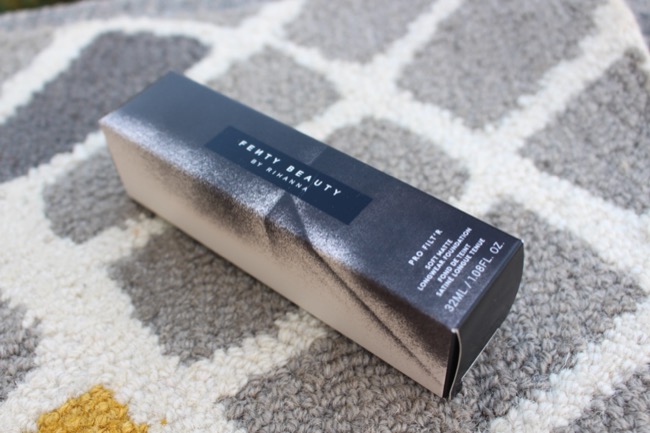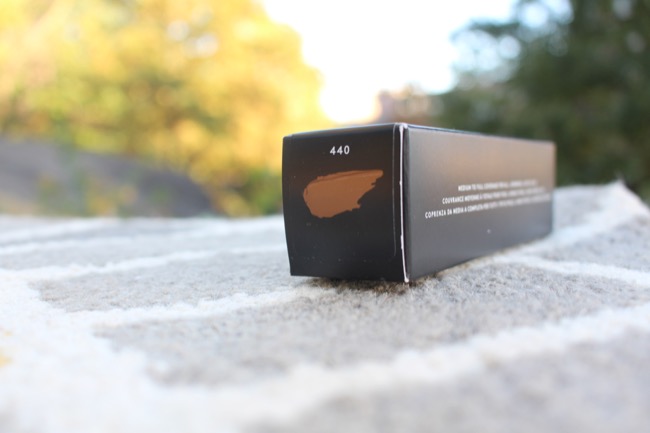 I eventually bought shade 440 on the Sephora website, which is described "for deep skin with cool red undertones". Suitable for all skintones and skintypes, oil-free, non-comedogenic, paraben-free and cruelty-free. It promises to give an 'instantly smooth, pore-diffused, shine-free finish that easily builds to medium to full coverage. The oil-free formula is made with climate-adaptive technology that's resistant to sweat and humidity.'
The product has a watery consistency with a low viscosity. It dries down very quickly as well. The finish is called a 'soft matte' finish. It is not the most matte formula that I have tried, which I liked. It is medium to buildable full coverage.
Fenty Beauty Foundation – Packaging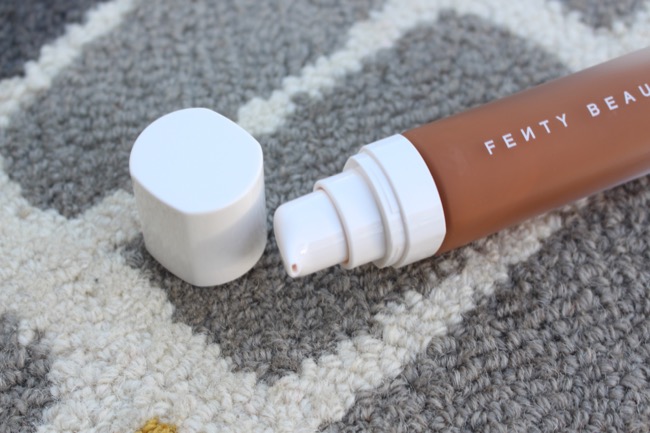 This product comes in a paper carton with a graffiti-style design on it it black and white. Kinda cool. The foundation is in a slim glass bottle with a frosted finish. Off-white cap (with a soft pink/salmon tone) and a pump! Bravo. All liquid foundations should come with one. The product has some weight to it so that it is not the most travel friendly, but looks amazing on a vanity. I did not have any problem dispensing the product. It did not squirt out or come out in too large a volume.
Fenty Beauty Foundation – Method of Application
I used multiple tools. My preferred method is using my fingers. I like to warm up product so that it sinks into the skin. I also used a damp Beauty Blender sponge, dense, synthetic brush from Real Techniques and a duo-fibre brush. All of them applied the product well, but I gravitated towards using fingers or the damp sponge for a thinner "medium coverage". Dense brushes give a more full coverage. It applied smoothly to the skin, and this product dries down very quickly so apply it in sections. Again, wait for the dry down to see the true colour.
Fenty Beauty Foundation – Results/Conclusion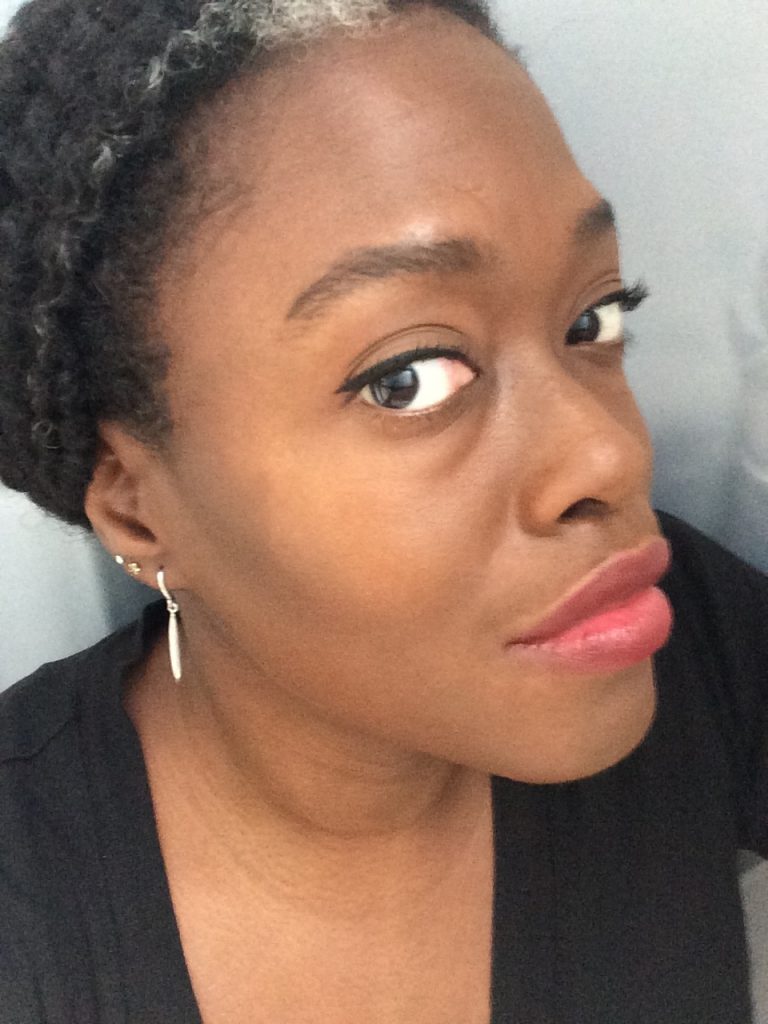 I love this product. I was concerned that this would be too matte for my skin, but I properly moisturised my skin. If you have dry patches, the foundation will catch on them so make sure to exfoliate with a mild AHA. It felt weightless and left me with a natural look. I did try to apply more than one layer and after two layers it begins to look like you are obviously wearing makeup but it does layer well. It wears well throughout the day and I did have a tiny bit of oiliness on my forehead at the end of the day but my skin still looked great (and I did not set the foundation). It held up well to sweat, humidity and a workout in the gym. It is not transferproof. Pick this up. It is well worth it and it will work even better for those with oilier skintypes. If you have trouble finding a foundation especially if you are very dark or very light (or albino), check this one out. I will be picking up some more products from Fenty Beauty in the near future. Let me know which product you want me to review next.
Fenty Beauty Foundation – Availability
Fenty Beauty Pro Filt'r Soft Matte Longwear Foundation is available on the fentybeauty.com website and also sephora.com and Sephora stores. It is USD$34 for 1.08 oz.
Laters!
If you liked this post, make sure you sign up for my email newsletter by clicking HERE! Get the latest curated makeup, haircare & skincare news and see what beauty products that I loving at the moment!
FTC Disclosure: Products were purchased by me, Noire Tropical Beauty. All opinions expressed are 100% honest and my own. I have not been compensated for this review. For more information, please see my Disclosure Policy.
Affiilate Links
The following links are affiliate links. If you sign up using these links, I will get a small percentage of a purchase and/or referral credit. These links provide discounts or cashback, when available. There is no requirement or obligation to use these links. If you need more information, please see my Disclosure Policy.
Join Honey – use this to find discounts on sites visited joinhoney.com/ref/qpwfsu
Ebates – use this to get cashback online or in-stores on select, qualifying purchases (great if you are shopping at Sephora)
https://www.ebates.com/rf.do?referrerid=EGx%2B1ltzid8P9uPThgCQxA%3D%3D&eeid=29041