First skincare post of the year. I am starting off with a bang this year. Skincare continues to be a vital part of my self-care routine. Of course prepping the skin to receive all the wonderful ingredients and nutrients and removing the grime, pollution and makeup of the day is very important. I am slowly discovering Korean beauty brands as that is an entire, exciting, expansive world. One of the first K Beauty products that I have tried is a product that came highly recommended by the YouTuber Gothamista (you should check her out) and it was one of her favourite products under $20. It is the Heimish All Clean Balm. Heimish is a relatively new company known for its simplicity and the All Clean Balm is one of their most popular. It is meant to be the first part of the 'double-cleanse' method. I bought this product from an American based website that sells Korean brands, called OhLolly.
If you prefer just to see the video, check it out below….
If not, keep scrolling 🙂
Heimish All Clean Balm Review: Video
Heimish All Clean Balm: General Description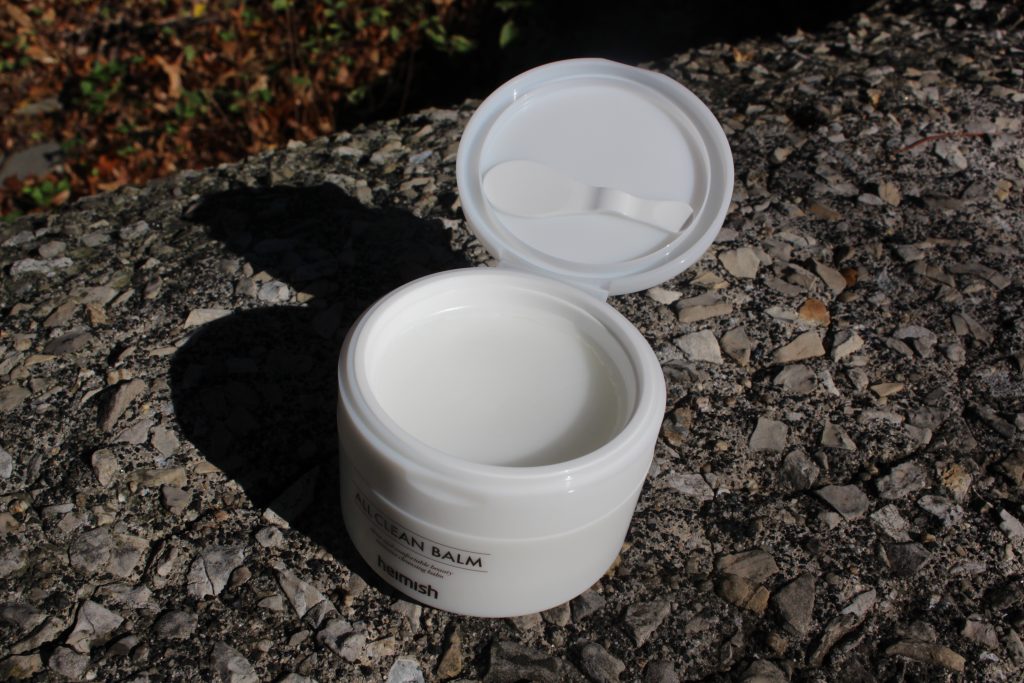 This is described as a natural, hypoallergenic balm that is paraben-free, free of added fragrance or colorants. This is a white balm-to-oil product that contains butters and oils such as Shea Butter and Coconut extract that quickly melts to an oil on contact with the warmth of the skin. It also contains a bunch of botanicals including jasmine, iris, rose, freesia and lavender extracts that soothe and nourish the skin. The formula consists of natural ingredients but I cannot confirm that it is 100% natural. There are a few of the ingredients that may not be naturally derived, but it is a generally a good formula and definitely mostly vegetable-based. There are also a couple of citrus extracts that may cause some irritation for people who have sensitivities to that. There is a very subtle, fresh scent that does not linger and is not offensive. When water is applied to the balm, it emulsies (i.e. a mixture of two liquids that don't dissolve into each other) and has a milky appearance and texture. The idea of the balm is that it converts to an oil so that it can be spread on the skin easily and it can dissolve the tough to remove products off the skin, like sunscreen, longwear/waterproof makeup and excess sebum. It also will not irritate the skin.
Heimish All Clean Balm Review: Packaging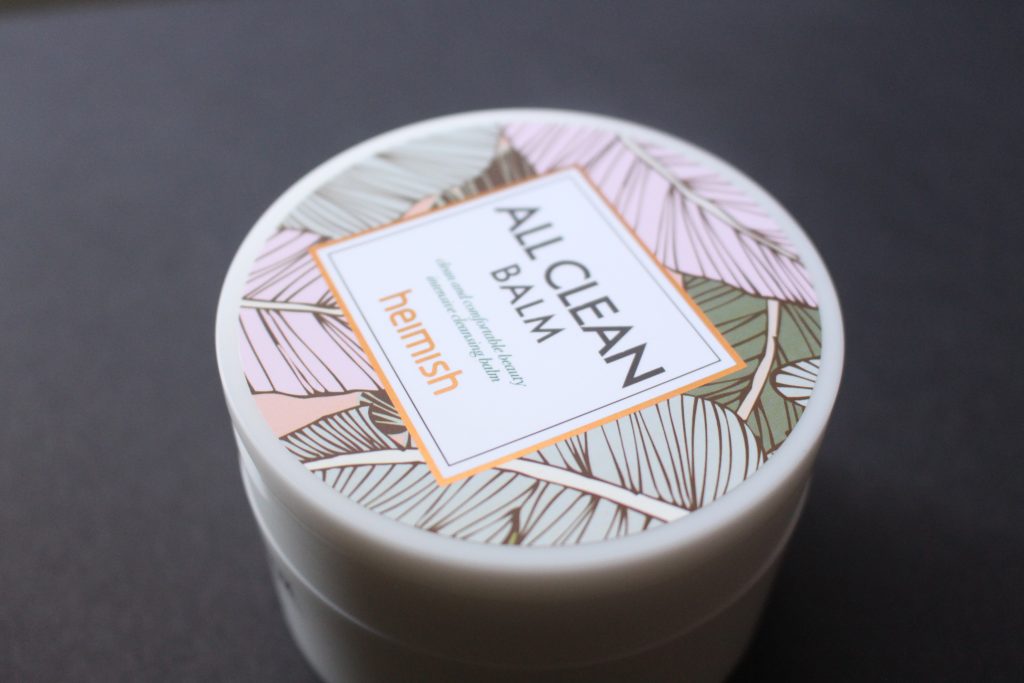 I love this packaging!! The design is very simple. White with the printed pink, green and rose gold motif on the top of the lid. Instead of being a screw top, it has a flip lid, which I think it is easier to open. Once you flip the lid, there is plastic disc that covers the top of the product. On the disc holds a little spoon to scoop out the product! Helps maintain the integrity of the product. I approve.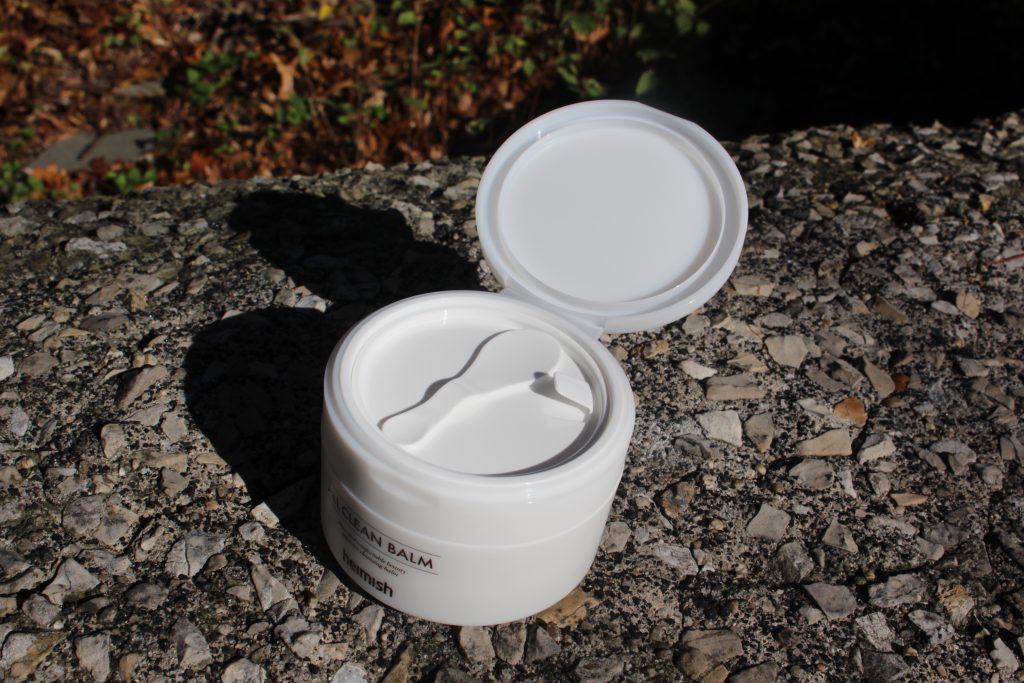 Heimish All Clean Balm Review: Method of Application
I followed the directions and scooped out a small amount into the palm of my hand and rub it between the palms. It quickly liquifies to an oil and I applied it to dry skin. This allows the oil soluble products to breakdown. Then after about 1 minute, I splashed water on my face and the oil turned into a milk and it helps pick up the water soluble particles on the skin. Then I rinse everything off.
Heimish All Clean Balm Review: Results/Conclusion
I was really impressed with this. My skin felt smooth and hydrated. No dry spots or greasy residue left behind. I also liked that I was able to apply the product directly on my eye and lashes and I did not experience any burning or an oily film on the surface of my eyes. It removes makeup very well and I don't even have to remove my makeup with a makeup wipe before using. I have only been using this as my cleanser. I have not found a water-based cleanser to use as the second step of the 'double-cleanse' method. Since I use about a dime-sized amount and only at night, this will last me for many months, probably over a year. Good price, even better product. I recommend this. Pick this up.
Heimish All Clean Balm Review: Availability
This costs about US$20 for 120ml of product and it can be found online at ohlolly.com, amazon.com and other Korean-based retailers.
Let me know if you tried this.
Laters!!!
If you liked this post, make sure you sign up for my email newsletter by clicking HERE! Get the latest curated makeup, haircare & skincare news and see what beauty products that I loving at the moment!
Related Posts
Affiliate Links
The following links are affiliate links. If you sign up using these links, I will get a small percentage of a purchase and/or referral credit. These links provide discounts or cashback, when available. There is no requirement or obligation to use these links. If you need more information, please see my Disclosure Policy.
Join Honey – use this to find discounts on sites visited joinhoney.com/ref/qpwfsu
Ebates – use this to get cashback online or in-stores on select, qualifying purchases. Great for using at Sephora! https://www.ebates.com/rf.do?referrerid=EGx%2B1ltzid8P9uPThgCQxA%3D%3D&eeid=29041
FTC Disclosure: Products were purchased by me, Noire Tropical Beauty. All opinions expressed are 100% honest and my own. I have not been compensated for this review. For more information, please see my Disclosure Policy.