Hey folks!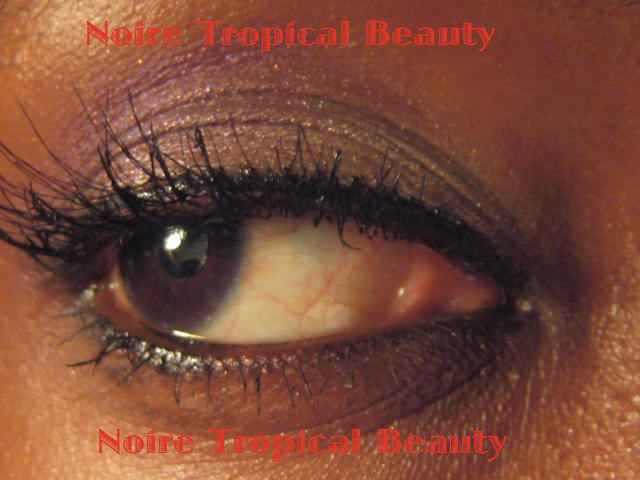 This is a look that I did earlier this week.  I also used Red Cherry Lashes for the first time.  And they are pretty good and inexpensive!
I heard A LOT about Red Cherry but did not want to order online, and silly me only just discovered Beauty 35 in NYC!  Really it's a mecca for inexpensive beauty products, hair and makeup supplies.  Anyway, I bought one pair of Red Cherry lashes in #DEL just to test them out.  They cost about $2.99 and they were very thin, wispy and long! They were easy to put in and felt really comfy.  They get a thumbs up from me!
Back to the look!
The Products….
Too Faced Shadow Insurance (TFSI)
M.A.C.  eyeshadow in Warming Trend
M.A.C. eyeshadow in Hepcat
M.A.C. Pigment in Smoke Signals
M.A.C. Kohl Power Eye Pencil in Feline
Givenchy Magic Kajal in #1
Red Cherry Lashes in # DEL
Duo Lash Adhesive in Clear
Maybelline Lash Stiletto in Very Black
M.A.C. brushes in # 224, 226, 239
The Details…
Apply TFSI  to the entire eyelid and lower lashline, using ring finger
Using # 224 brush, apply Warming Trend to the inner and middle lid, using soft strokes. This is soft look.
Using your # 239 brush, pat on Hepcat onto the outer lid, from the lashline, to and a little past the crease.  You want the colour to come out of your crease.
Using Smoke Signal pigment and a small blending brush like the # 226, to apply a light dusting of pigment in the outer crease just to slightly darken the crease.
Apply Feline eyeliner on the upper lashline
Using Hepcat and # 239 apply shadow to the outer third of lower lashline
Line lower water line with Givenchy Kajal
Curl lashes, if needed
Apply mascara to both upper and lower lashes
Apply falsies and blend with natural lashes!
Some Dupes…
Warming Trend is a shimmery, light gold, beigey, tan colour.  Any hightlight colour would work e.g. M.A.C. Henna.
Hepcat is a dark, shimmery pink.  MUFE's # 58 could be used, but that is a matte colour.  Then a layer of pale shimmer could be added over that.
Smoke Signals is a very dark, matte burgundy.  M.A.C.'s Agate, and Sketch are similar.
Laters!