Mascara. One beauty product that I cannot live without. Just giving my lashes some definition is all I want on some days. I have been wearing one of L'Oreal's newest mascara offerings, the L'Oreal Voluminous Lash Paradise Mascara. This is part of the Voluminous line, which is a favourite of many, so I had high expectations for this one. In general, I really like the L'Oreal mascaras, I think they make some of the best at the drugstore/inexpensive level.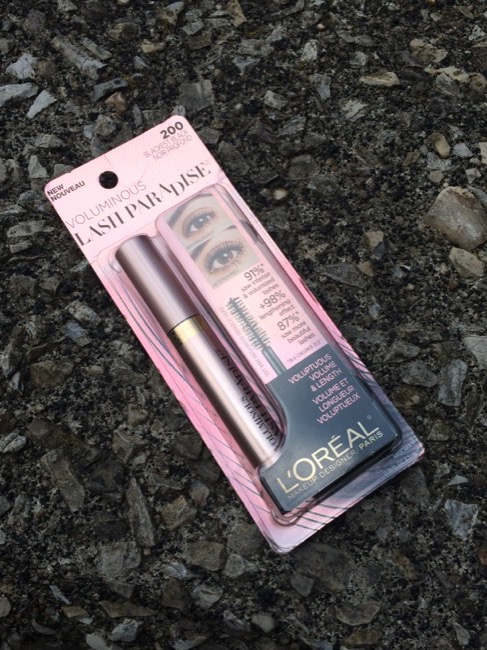 The obvious comparison being made is with the Too Faced Better Than Sex Mascara. The packaging and the brush are very similar! Not sure if this was intentional by L'Oreal but…. here we are. So is this a drugstore dupe? Can it stand up to its more expensive doppleganger? Lehwe go!
L'Oreal Voluminous Lash Paradise Mascara Review – Video
Here's my video review and demo. Take a look and subscribe to my channel so that you don't miss out! If you prefer to read…keep scrolling.
L'Oreal Voluminous Lash Paradise Mascara Review – Description
This comes in a number of shades and in both washable and waterproof versions. This review will focus on the washable version in the shade 'Blackest Black'. According to L'Oreal Paris, this mascara promises "voluptuous volume, intense length, full fringe lashes and feathery softness". Also it touts its no flaking, no smudging, no clumping properties. It contains your typical ingredients that are found in mascaras, but it is not natural/organic or anything like that. The formula is very rich and creamy, has a 'heft' to it and the I like the pigmentation. It's is quite black but not the blackest formula that I have ever used. But it is black and does not have a grey tone to it.
L'Oreal Voluminous Lash Paradise Mascara Review – Packaging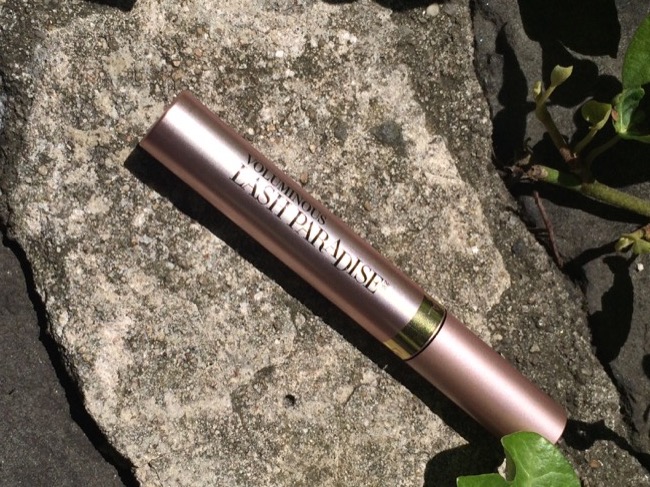 So the elephant in the room is the packaging. The L'Oreal Voluminous Lash Paradise mascara comes in a soft pink, brushed metallic tube, very similar to the Too Faced Better Than Sex Mascara. I have tried that one and I think the packaging of the Lash Paradise feels less sturdy than that one. It is still good and adequately holds the product, but it is probably a less expensive version. The wand/brush is also very similar. It is has an hourglass-shaped brush with over 200 bristles that is supposed to catch every lash. Again, similar to the Too Faced, but is a smaller brush than that one. I would say that is a little larger than an average sized brush.
L'Oreal Voluminous Lash Paradise Mascara Review – Method of Application
I had no problems using this brush. Picks up and deposits product on the lashes. I was able to get to the smaller lashes with minimal effort. When the wand is first pulled out of the tube, a lot of product is picked up, but that can be easily removed on a tissue. I was able pull the brush through the lashes easily and my lashes remained soft and flexible even after 2 coats.
L'Oreal Voluminous Lash Paradise Mascara Review – Results & Conclusions
I really like this mascara. Another good product from L'Oreal. This will be added to my rotation of drugstore favourites. I do think this is a 'Too Faced Lite'. It's a dupe if you don't want to pay the 20 odd dollars, but the Too Faced is still is much better product. I tested this mascara using two coats and I think it has a good formula. Gave me fullness and volume but not a whole lot of length. I would probably layer this with a more lengthening mascara. I was able to maintain lash definition without getting clumps or ending up with 'spider lashes'. My lashes felt soft and flexible. After a full day, which included a workout outdoors and in the gym, I did not get any flaking or smudging, which is a major plus for me. I recommend getting this, I would replace this product after 3 months, because it dries out and gets a little sticky after that time.
L'Oreal Voluminous Lash Paradise Mascara Review – Availability
The L'Oreal Voluminous Lash Paradise mascara costs about US$9.99 and you can find it at most local drugstores and pharmacies in multiple shades including black-brown, for those with lighter toned lashes. Target, L'Oreal Paris
Looking to remove your mascara? Check out this blog post I did about different types of makeup removers.
Laters!
If you liked this post, make sure you sign up for my email newsletter by clicking HERE! Get the latest curated makeup, haircare & skincare news and see what beauty products that I loving at the moment!
FTC Disclosure: Products were purchased by me, Noire Tropical Beauty. All opinions expressed are 100% honest and my own. I have not been compensated for this review. For more information, please see my Disclosure Policy.
Affiilate Links
The following links are affiliate links. If you sign up using these links, I will get a small percentage of a purchase and/or referral credit. These links provide discounts or cashback, when available. There is no requirement or obligation to use these links. If you need more information, please see my Disclosure Policy.
Join Honey – use this to find discounts on sites visited joinhoney.com/ref/qpwfsu
Ebates – use this to get cashback online or in-stores on select, qualifying purchases https://www.ebates.com/rf.do?referrerid=EGx%2B1ltzid8P9uPThgCQxA%3D%3D&eeid=29041