Mielle Organics has been on my long list of brands that I needed to try but I never got around to it. When I heard that they were coming out with the Mielle Organics Pomegranate & Honey collection that was specially made for people with kinky hair, or who need intense hydration, I was sold! I went to my local Sally's Beauty to take a look. By the way, this particular collection is exclusive to Sally's and also the Mielle Organics website.
Mielle Organics has been around since 2014 and it was founded by a woman of colour who was looking for products for her natural hair with quality, wholesome ingredients. There are other lines from this brand that are great for curly hair, but this was specifically made for folks like me! I picked up two products – the Leave-In Conditioner and the Twisting Souffle. Both products conditions, hydrates and seals the hair. As far as I can tell, all the ingredients are naturally based, and most of them are organic. There are no parabens, sulphates, paraffins, mineral oil, artificial colours, DEA and it is not tested on animals.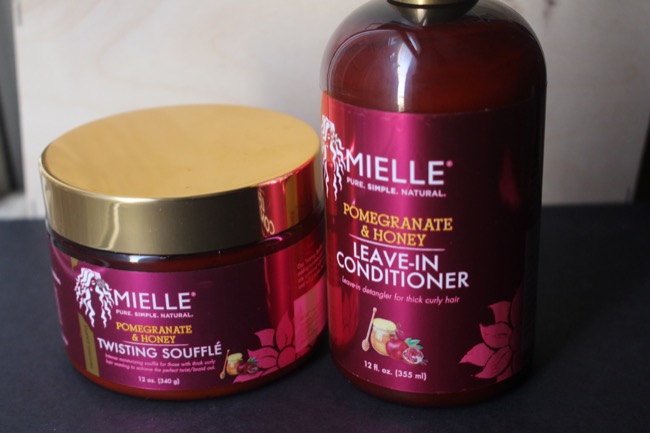 Mielle Organics – Pomegranate & Honey Review: Some of the Science
Pomegranate is a well-known ingredient that is used in many beauty products for its anti-aging/antioxidant properties as it is a natural source of Vitamin C. The oil also contains punicic acid which helps strengthen hair follicles and encourages healthy hair growth and aids in detangling. Honey is a humectant, which means it draws water into itself and helps maintain moisture levels in hair. It is also anti-bacterial and encourages healthy follicles and hair growth.
Mielle Organics – Pomegranate & Honey Review: The Video
Before I continue, if you just want to see what I thought about this line, check out my video! Otherwise keep scrollin 🙂
Mielle Organics – Pomegranate & Honey Review: How It Is Packaged
The packaging is so pretty and it stands out on the shelf or your dresser. The containers are reddish-brown plastic with shiny gold caps/covers. The label is a deep raspberry pink foil finish.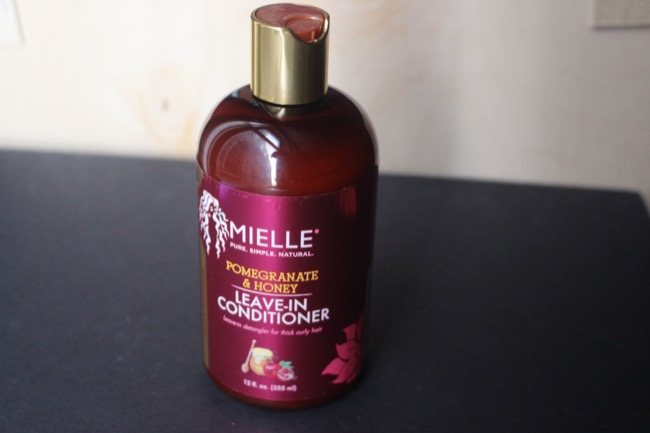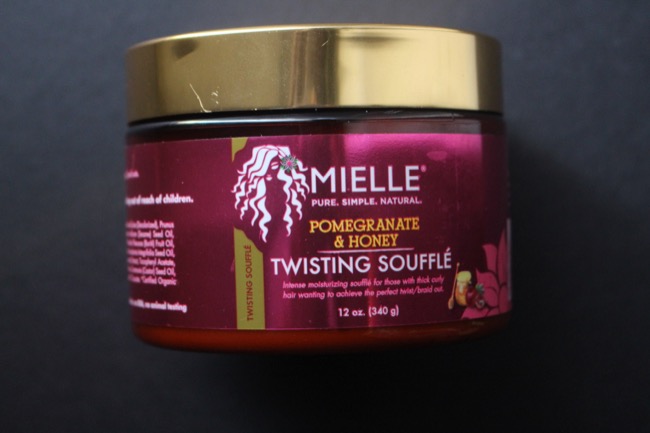 Mielle Organics – Pomegranate & Honey Review: How I Use Them and Review
I have actually been using Leave In Conditioner as a detangler as well as a hydrator. It has good slip and reminds me of some of my favourite versatile leave-ins such as the Kinky Curly Knot Today. There is also a plethora of different hydrators that can add moisture all throughout the hair. And I love how lightweight it is, I don't feel as if my hair is being weighed down. I like that I can finger detangle my hair without feeling as if I was ripping my strands.
For the Twisting Souffle, it is also very lightweight with an interesting texture or 'feel' on my hands. It is not a heavy, thick butter but more like a gel cream. It took some time getting used to how it felt on my hands, but it worked very well to hydrate my hair. Even in much colder weather, when I prefer using heavier products, my hair felt moisturized for days. I think it is light enough to work well in warmer weather without weighing down hair. Those of you with thinner strands or now very thick or dense hair will still find this product suitable for use. Both products have a very sweet, fruity, prominent scent. I like it, but I can see how it some may find it overpowering especially since it lingers on the hair.
So after washing and conditioning my hair, I used the Leave In Conditioner as a detangler and moisturizer. Then I applied the Twisting Souffle on a section of my hair and then twisted it up. By the way, have you checked out my twistout tutorial? I consistently get amazing results with this method.
What I was amazed at with this combo, is that my hair felt really moisturized even after 3 days post application. In the almost two weeks that I kept my twists in, I did not re-moisturize my hair daily. I was able to retain that hydration over an extended period.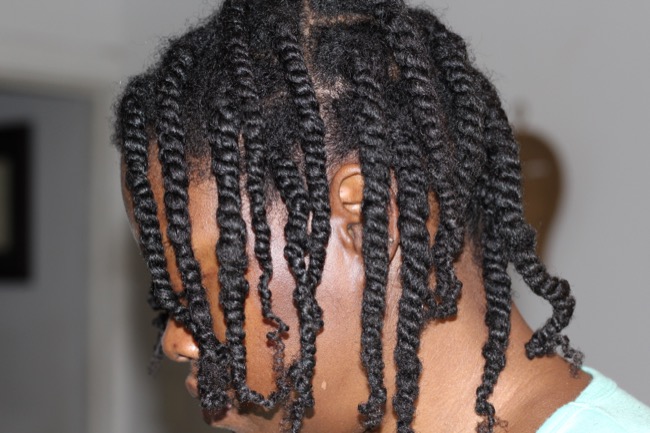 And even more amazing is how boss my twistouts were! This is definitely one of my favourite hair products to date. I had minimal frizzing, my hair strands stayed smooth and shiny and for some reason, the pattern created by the twists held for a longer time than with most other products. That is, I could get close to a week with my twistout looking fresh. That was impressive.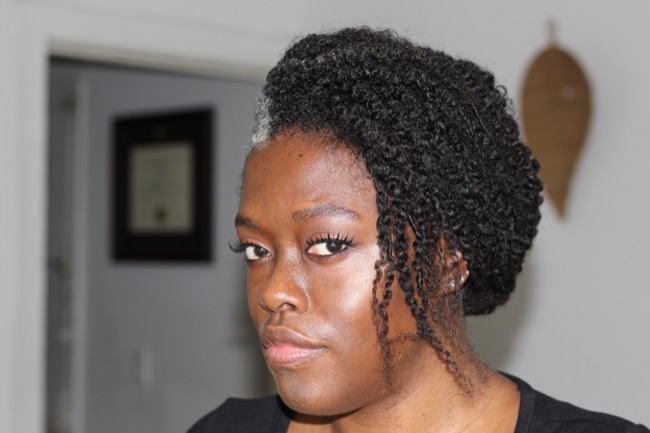 So, I am glad I was able to try these products and I am really happy with the great results that I got. I, of course, would highly recommend all you curly naturals to try this.
Where to find Mielle Organics Pomegranate & Honey Collection:
Sally Beauty *This site uses Ebates! See below on how to save…
Let me know what you think of this line and what else should I try from Mielle Organics.
Laters!
If you liked this post, make sure you sign up for my email newsletter by clicking HERE! Get the latest curated makeup, haircare & skincare news and see what beauty products that I loving at the moment!
FTC Disclosure: Products were purchased by me, Noire Tropical Beauty. All opinions expressed are 100% honest and my own. I have not been compensated for this review. For more information, please see my Disclosure Policy.
Affiliate Links
The following links are affiliate links. If you sign up using these links, I will get a small percentage of a purchase and/or referral credit. These links provide discounts or cashback, when available. There is no requirement or obligation to use these links. If you need more information, please see my Disclosure Policy.
Join Honey – use this to find discounts on sites visited joinhoney.com/ref/qpwfsu
Ebates – use this to get cashback online or in-stores on select, qualifying purchases. Great for using at Sephora, Sally Beauty and hundreds of sites! https://www.ebates.com/rf.do?referrerid=EGx%2B1ltzid8P9uPThgCQxA%3D%3D&eeid=29041