Sunday Riley…A name that piqued the interest of the beauty world about 2 years ago. Every blogger, every magazine, every celebrity…everybody was talking about their Luna Sleeping Oil. How skin changing it was. But this is not about the oil. This is about the Sunday Riley Cleansing Balm. Actually, its full name is the Sunday Riley Blue Moon Tranquility Cleansing Balm. That's a mouthful! The thing that attracted my to SR, was that the owner has a background in chemistry and you know that is really close to my heart!
With my dry skin, I try to stay away from gel or foam facial cleansers and I usually gravitate towards cleansers that are more creamy in texture. And more naturally based. So as Korean beauty continues to have an increasing influence on the industry in the US, I was interested in using a cleansing balm. I decided that, as my first step into cleansing balms, to try this one. I was pretty confident that it would not leaving my skin stripped and dehydrated after cleansing, it contained a lot of botanical ingredients and appeared to be pretty "clean" and the soft blue colour made it all exciting!
The Sunday Riley Cleansing Balm Details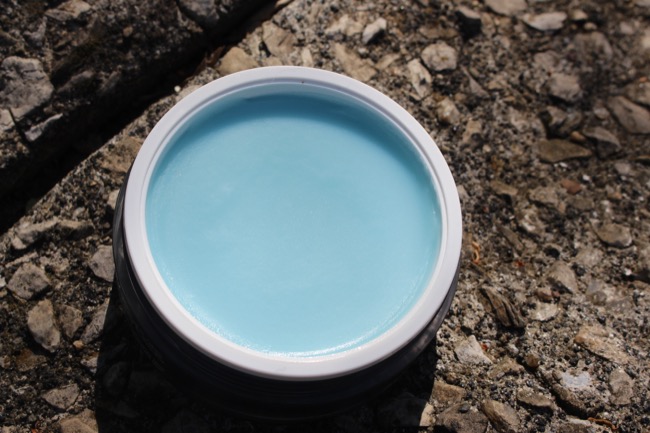 The company describes this as:
A hydrating cleansing balm that removes makeup—even stubborn eye makeup—and impurities with sugar-based cleansers as soothing essential oils calm irritation. – as per Sephora.
This balm contains sugar based cleansers, Sucrose Laurate, as its surfactant/cleanser. This is the part of the balm that binds to dirt, makeup etc. and turns milky, and is washed away. It also contains Cocoa Seed Butter, Mimosa Flower Wax and Sunflower Seed Wax that contain antioxidants that protect the skin as well as condition and hydrate. The blue colour comes from both the Blue Tanzy Leaf Oil and the German Chamomile which are indigo oils that are rich in azulene, a compound that soothes and calms irritated skin. Citrus based essential oils that help clarify the skin, a note to those who have a sensitivity to citrus oils. These properties make it a great choice for both oily and dry skin types alike.