The brand that shook up the beauty world! Fenty Beauty By Rihanna. I have been in the beauty game for a long time. I have been obsessed with beauty products for an even longer time. There were times that I spent all day online refreshing the comments on my favourite makeup forums waiting for the latest leaked news on upcoming collections. I don't think I remember this much hype and this much excitement and this much anticipation for the release of a new beauty line or product. But Rihanna's new entry into the beauty game garnered just that. Particularly amongst women of colour. Once the promo images started coming in and word came out that the initial launch will include 40 shades of Fenty Beauty foundation, myself and pretty much every medium to dark skin women of colour started saving our pennies. People with noticeable amounts of melanin still continue to struggle to find a sufficient variety of options when it comes to foundations. And I have heard all the excuses, none of them acceptable.
This a long post, and I have a lot to say. If you want to skip to different sections, use the links below:

Fenty Beauty launched on September 9th in the US and 17 other countries. It is available online and in some stores. There was a massive launch party at the Sephora Times Square in New York at midnight and the Bajan Princess was there! Based on the Instagram live feeds, it was pure bacchanal and chaos! I went to the Sephora a little later in the morning (about 8 am) after the initial crowds died down. Anyone that was in the store was at the Fenty Beauty display. The entire collection is gorgeous and well done. I'm just going to let you know right now that this hype is real. This is a legitimately good quality line. I was so excited and I was excited looking at other dark skin women being excited about makeup.
This is a permanent, complexion collection with the focus being on the skin and enhancing the colour and the glow. It was more recently announced that there will be a limited edition colour release for the holidays – eye shadow palette, lip glosses etc. But the core collection is going to be around.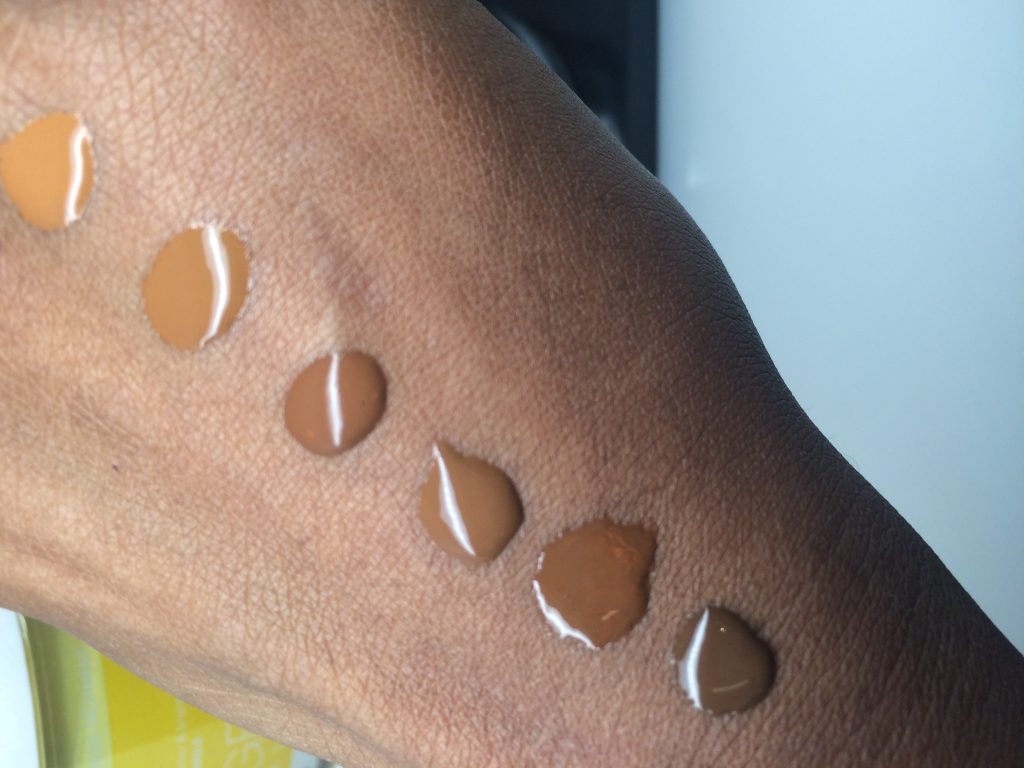 I picked up two samples of the Fenty Beauty By Rihanna Pro Filt'r Soft Matte Longwear Foundation in shades #470 and 480. The darkest shade is #490. There are a lot of options for medium to deep dark skintones. The South Sudanese/Australian model Duckie is one of the faces of the brand. And the more interesting thing about the shade selection is the inclusion of the subtlities in undertones. Warm, cool, neutral, less red, more blue, less yellow, more green. This makes FB one of the more unique compared to other brands that offer that wide of a range.