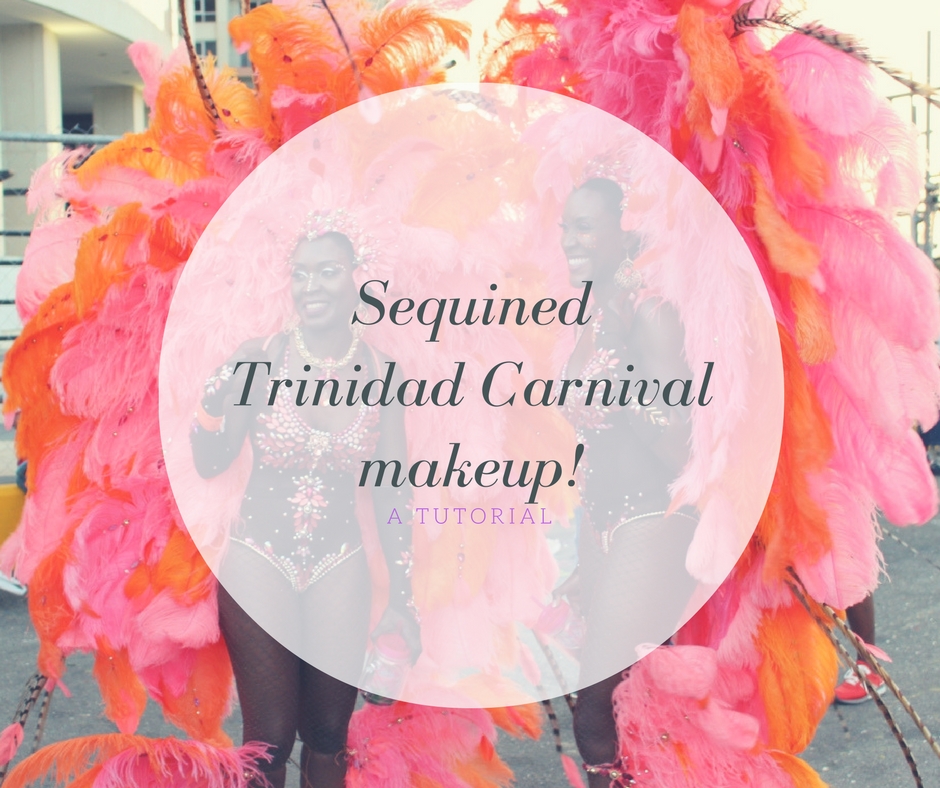 Hey!
This Carnival season in Trinidad & Tobago has been a very short one. From the day after Christmas to the Carnival Monday is about 6 weeks! So all the fetes and other cultural events jam up next to each other. Talk about hectic! So this is my Carnival makeup look for 2016.
Usually I take inspiration from a pretty mas costume from one of the bigger mas bands, but this time, I just kinda played it by ear and this is what I came up with!
I wanted the sequins and rhinestones to be the centre of attention without too much makeup anywhere else. Also I incorporated some strategic highlighting of the skin, minimal foundation and a couple of lip options. There is usually so much going on with your costume – the head piece, beads, feathers etc. that I wanted the look to be super pretty.
#Carnival: Be creative and let your imagination take you! Click To Tweet
So leh we go!
THE CARNIVAL MAKEUP DETAILS
Before starting, especially for Carnival, make sure to moisturise and add a really good SPF. The sun is usually blazing and wearing sequins will give you a funky tan if you do not protect your skin. Apply the SPF just before applying your foundation. A foundation that is water-resistant and contains SPF will also help. Finally make reapply sunscreen every couple of hours. This is why I suggest wearing minimal foundation.
The Skin
Ardency Inn Americana Ultra Lightweight Skin Perfecting Primer all over the skin
I used one pump of NARS All Day Luminous Weightless Foundation in Benaras (Dark 3). The MUFE Ultra HD Invisible Cover Foundation would be great here too for its water-resistance properties.
Eve Pearl Invisible Finish Powderless Powder
The Brows
Went for a bolder brow. Urban Decay Brow Beater in Dark (pencil)
Senna Cosmetics Form A Brow Stencil Kit in Neutral (darkest shade)
Senna Cosmetics Brow 1 brush
The Eyes
Urban Decay Primer Potion
ColorPop Cosmetics Super Shock Shadow in Intoxicate all over the upper eyelid
M.A.C. Cosmetics Matte2 Eye Shadow in Signed, Sealed in the outer and mid crease using the #217 brush (or Sigma E25). This is to give a base of darker colour for the rhinestones.
Melt Cosmetics Dark Matter Stack in Blurr – browbone highlight
M.A.C. Eye Shadow in Ricepaper – browbone highlight
NARS Eyeliner Stylo in Carpates – black liquid liner on the upper lashline as a base for the false lashes.
Maybelline The Falsies Push-Up Drama Mascara in Blackest Black – applied to upper and lower lashes before adding false lashes.
M.A.C. Feline Kohl Power Eye Pencil – line the entire lower lashline and waterline and smudge for definition.
Kiss False Lashes
The Cheeks
Gleam by Melanie Mills Body Radiance in Deep Gold and Bronze Gold – this is body makeup applied to the highpoints of my cheeks, cupid's bow, collarbone and shoulders
The Lips
I have two different lip looks – one neutral/nude and one bright.
The Nude version
Smashbox Always Sharp Lip Liner Nude Dark – brown lip liner
ColourPop Ultra Matte Lipstick in Limbo
ColourPop Lippie Stix in Grunge
OCC LipTar/RTW in Hush – layered on top
Mehron Precious Gem Powder in Opal – to create a multidimensional look
The Bright version
Sasha Intense Matte Lip Velvet in Life Of D Party
M.A.C. Velvetease Lip Pencil in Lover's Lane
Mehron Precious Gem Powder in Ruby – to create a multidimensional look
I then added different coloured and sized sequins that I bought at a local craft store. I used this really good adhesive from Mehron called the AdGem Body Adhesive.
It is a water-based, latex free adhesive that provides a comfortable, long-lasting hold for glitters, gemstones etc. It is water and moisture resistant. Be creative and let your imagination take you! For the rhinestones above the eye, I placed them above the crease so that I could open and close my eye easily.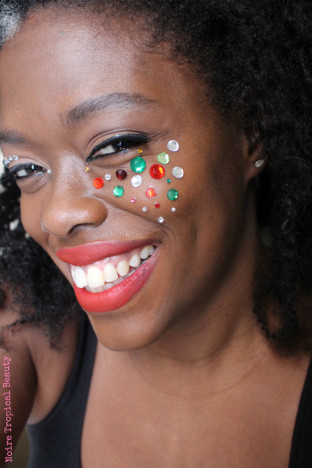 So, that 's it! Let me know what you think. Are you going to Carnival this year? Shout out which one in the comments below!
Check out some of my other Carnival posts!
Also, check out my brother, Konata's 2016 #Carnival offering #WeDey!
If you like this post, make sure you sign up for my email newsletter by clicking HERE! Get the latest curated haircare/skincare news and see what beauty products that I loving at the moment!
[contact-form][contact-field label='Name' type='name' required='1'/][contact-field label='Email' type='email' required='1'/][contact-field label='Website' type='url'/][contact-field label='Comment' type='textarea' required='1'/][/contact-form]