NARS has followed up their great fall collection with another beautiful one for winter!
According to the website:
'The look for the NARS Holiday 2009 Collection is sophisticated and sensual,
featuring shades that are deep and bold with festive shimmer. '"For the holidays,
I think it's a great time to feel beautiful and sexy…with a little bit of movie
star attitude," says François Nars, Founder and Creative Director of NARS
Cosmetics.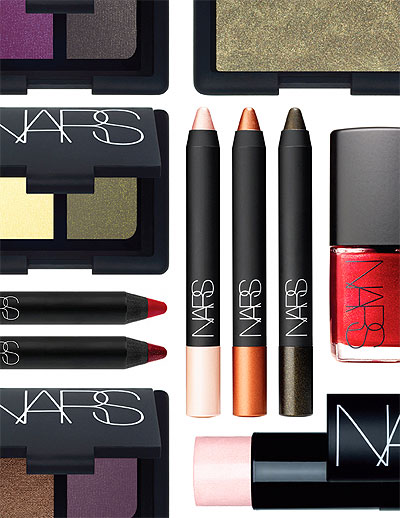 The Details
SOFT TOUCH SHADOW PENCIL New for the NARS Holiday 2009 Collection – the Soft Touch Shadow Pencil has a convenient delivery system and multi-purpose formula. "Pencils are always very handy and easy to use – this one has a wonderful texture and comes in fun, playful shades," says Nars. It has a smooth, cushiony feel on the lids and great playtime for optimal blending. Use it subtly to line as a highlighter, or more intensely as a base for powders.  The pencil comes in three colours:
GODDESS A cool, divinely ethereal, glistening pink champagne that's worthy of worship.
AIGLE NOIR A smoky, bold black infused with gold shimmer named for the dark, noble raptor that soars the Himalayas – graceful and rare.
SKORPIOS An irresistibly iridescent copper named for the alluring Greek isle of the famous and flamboyant.
POP LIFE VELVET MATTE LIP PENCIL
Coat lips instantly with this bold, bright and modernly matte holly – red hue that
slips on with a velvety texture – a holiday staple with portability and ease of
application.
TOUNDRA VELVET MATTE LIP PENCIL
This richly pigmented Barolo wine shade is creamy, long-lasting and matte for
strong, seamless color and a perfectly defined pout.
ROUGE ANDALOU NAIL POLISH
Lasting and lustrous, like its namesake region – this classic, incandescent candy
apple red nail hue is sultry, sexy and steeped in tradition.
BROUSSE DUO EYESHADOW
Deep, subtly shimmering hues of eggplant and the darkest wood create an
earthy, yet sophisticated palette – a perfect pairing for layering up to the brow
or lining for shape and definition. Try swiping one shade over the eyelid and
applying the other beneath the brow bone to highlight. No matter the technique,
the effect will be decidedly dramatic.
EURYDICE DUO EYESHADOW
Bordeaux with hints of iridescent blues and coal rich with metallic greens make
for a modern holiday pairing. They can be used along the upper or lower lash
line: Swipe on the upper lid for use as a shadow or use underneath the eye as a
liner. Layered or alone, these shades are bold and impressive.
TAÏGA DUO EYESHADOW
A surprising contrast of bright, yet intense hues in the sheerest of textures. Apply
the twinkling frost shade to the inner eye, extending up to the brow to illuminate;
line the upper lid with the glittering garland green for a look that's faultlessly
festive.
MOUSSON EYESHADOW
This shimmering, spicy pine cream eyeshadow is named for the monsoon –
natural and unpredictable. It has richness and depth, yet is lightweight in texture,
allowing for a surprising range of color and intensity – from daring to delicate.
This looks very women of colour-friendly! I've been drooling over everything in this collection!  I definitely have to check out.  NARS is a great product line and their shadows and blushes are highly pigmented.  I started getting into NARS during last year's winter collection.
This collection is now available online and for more information, visit narscosmetics.com