Mielle Organics has been on my long list of brands that I needed to try but I never got around to it. When I heard that they were coming out with the Mielle Organics Pomegranate & Honey collection that was specially made for people with kinky hair, or who need intense hydration, I was sold! I went to my local Sally's Beauty to take a look. By the way, this particular collection is exclusive to Sally's and also the Mielle Organics website.
Mielle Organics has been around since 2014 and it was founded by a woman of colour who was looking for products for her natural hair with quality, wholesome ingredients. There are other lines from this brand that are great for curly hair, but this was specifically made for folks like me! I picked up two products – the Leave-In Conditioner and the Twisting Souffle. Both products conditions, hydrates and seals the hair. As far as I can tell, all the ingredients are naturally based, and most of them are organic. There are no parabens, sulphates, paraffins, mineral oil, artificial colours, DEA and it is not tested on animals.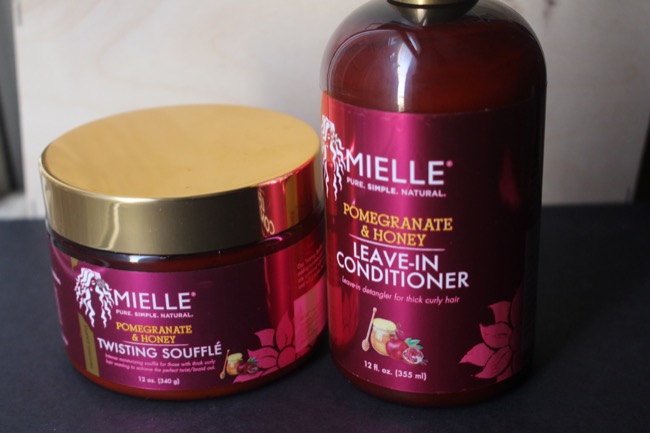 Mielle Organics – Pomegranate & Honey Review: Some of the Science
Pomegranate is a well-known ingredient that is used in many beauty products for its anti-aging/antioxidant properties as it is a natural source of Vitamin C. The oil also contains punicic acid which helps strengthen hair follicles and encourages healthy hair growth and aids in detangling. Honey is a humectant, which means it draws water into itself and helps maintain moisture levels in hair. It is also anti-bacterial and encourages healthy follicles and hair growth.
Mielle Organics – Pomegranate & Honey Review: The Video
Before I continue, if you just want to see what I thought about this line, check out my video! Otherwise keep scrollin 🙂