You know my signature look is the twistout. It's just so easy to do. And I love lightweight creams that give a little hold without being crunchy, especially since I don't use hair gels. So, Whitney White aka Naptural85, an OG YouTube blogger has been working for years to create the perfect haircare products and she has come out with Melanin Haircare. I was very excited to support this black owned, woman owned brand and placed my order last October when she opened pre-sales. Fast forward to 2019 and I finally received my products. I ordered her two hair products, the The Melanin Twist-Elongating Style Cream and The Melanin Multi-Use Pure Oil Blend. There are two other products that are available, a Logo Visor and Logo Head Wrap, but I didn't get these.
Melanin Haircare is a natural haircare line, specially made for people who have curly, kinky, coily natural hair. Whitney is a bit of a legend on YT, here hair is amaaaaaazing and she has been giving us her tips for healthy hair for years!
Here's a demo of my twist and twistout.
Melanin Haircare Review – Details & Packaging – Twist-Elongating Style Cream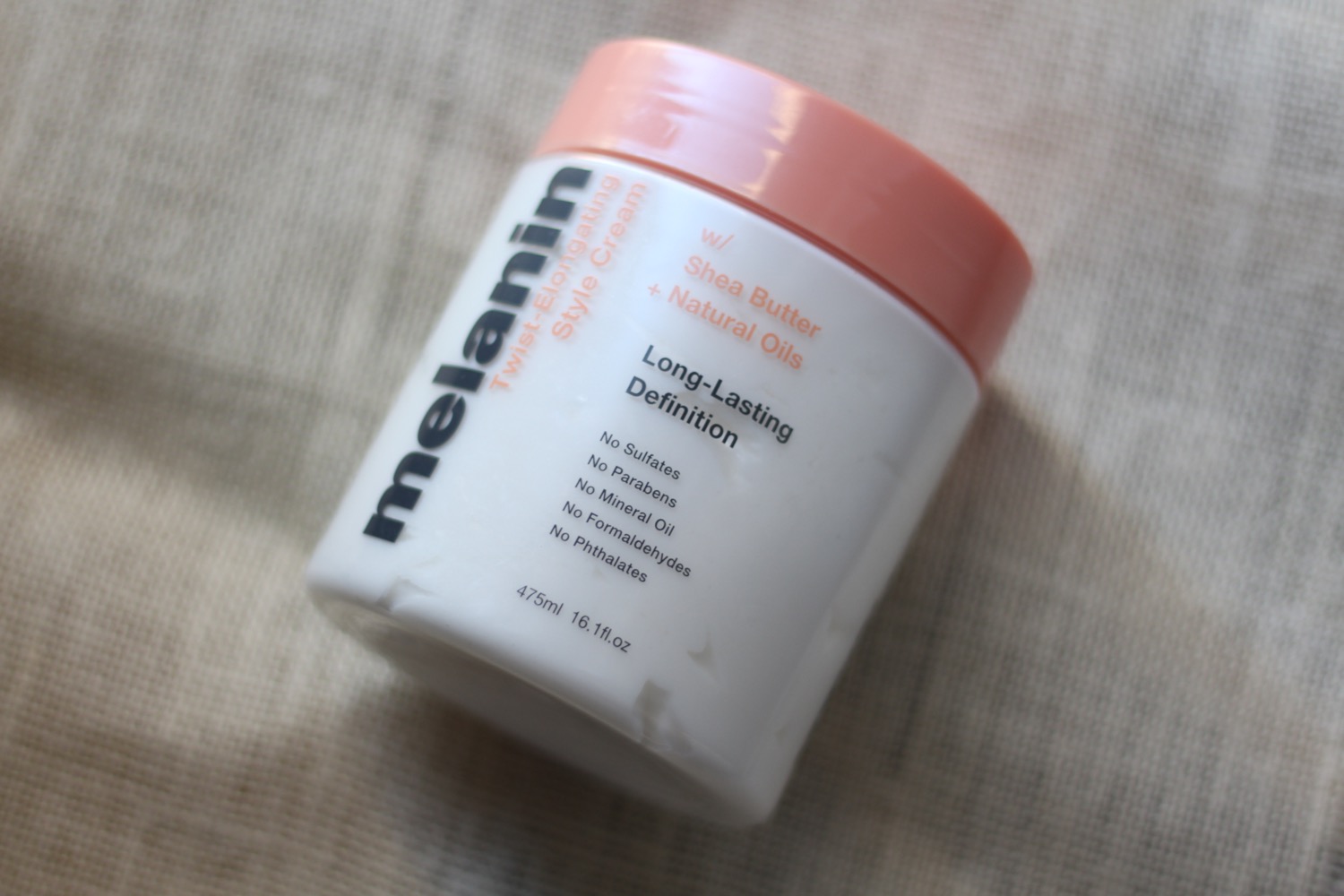 The Twist-Elongating Style Cream – a lightweight cream that is buildable and it hydrates, softens and seals in moisture onto the hair stands. It uses some of the best known natural butters in the natural hair community – shea butter, mango butter, cocoa butter (one of my faves!), kokum butter and cupuacu butter. It also contains aloe vera juice, which is well known for being very hydrating and a number of natural oils like argan, avocado and sweet almond oils, which helps adds nutrients, emolliance and makes the product spread easier. There are some naturally derived synthetic ingredients that help with the stability, emulsify and enhance the conditioning properties the product. It is an off-white creamy product that does not feel greasy. It melts into my hair quickly and can add more product if needed without weighing down my kinks or making them feel sticky.
This comes in a 16.1 fl. oz or 475ml container with a coral cover. It's a LOT of product. I have been using this product for weeks and it looks like I have barely touched it. It can easily last 6 months or more. You can be liberal with the application, or you can share it with other family members. Whitney mentioned this in her video, that she wanted to give customers a lot of it, cuz, we typically have a lot of hair and we use a lot of product at any given time.