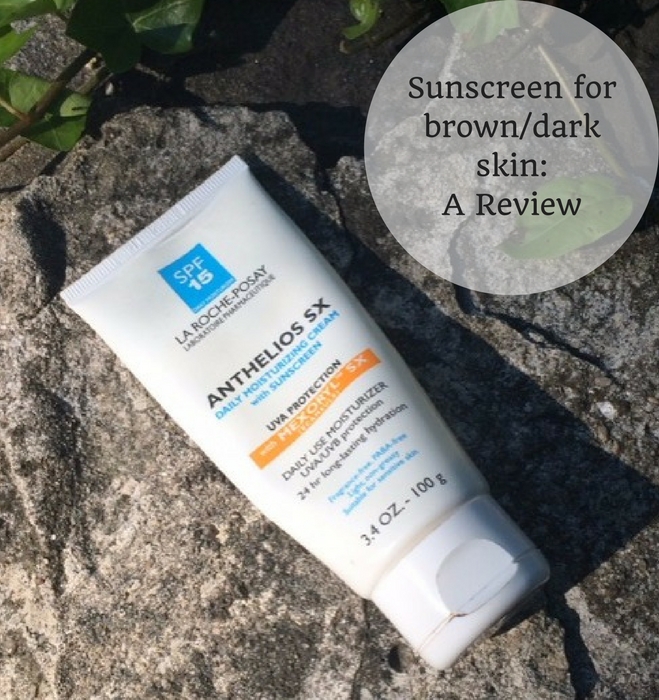 The one product that I have used for years to protect my skin…..La Roche-Posay Anthelios SX Daily Moisturizing Cream with Sunscreen with Mexoryl SX SPF 15
I grew up in the southernmost part of the Caribbean. Trinidad and Tobago. Two islands surrounded by deep blue seas, beaches and hot blazing sun. The last thing on anyone's mind was sun protect. What is that? We black…..Unfortunately we did not understand the need to protect our skin for the future.
The number thing you can use to protect your skin and slow down the aging process is SUNSCREEN!
Click To Tweet
As I grow older, I became wiser and set off looking for a suitable product. Being a dark skinned person, this proved to be quite difficult. As with cosmetics, many companies have not brought out sun protection products that are acceptable or suitable for folks with some melanin. I have two main requirements when selecting a sunscreen:
It does not leave an ashy/white residue on the skin
I do not get an allergic reaction to it
This makes an already small selection even smaller. About 90-95% of the sunscreens that I try, fail one or both of these criteria. Including mineral "natural" sunscreens. I get contact dermatitis with just one application. Starts around the eyes and temples and spreads across the fact. Itching, then rash, then burning. I want to bust a myth that I see peddled out there a lot. For some reason, people have this idea that mineral or physical sunscreens are safer and better than chemical ones. The US FDA regulates sunscreens as they are considered 'drugs' and therefore they are more closely regulated that other cosmetics. The US is very slow in approving new sunscreen ingredients – much slower than in the E.U. and Asian countries, so that there is a small pool of approved ingredients that everyone uses. The main ingredients in minerals sunscreens are titanium dioxide and zinc oxide. They are both chemicals. They are all chemicals….different types of chemicals, but all chemicals. This is a review of a sunscreen that I have been using for years…pretty much since it came out on the US market – La Roche-Posay Anthelios SX Daily Moisturizing Cream with Sunscreen with Mexoryl SX SPF 15

La Roche-Posay Anthelios Mexoryl moisturizer review
If you want to skip straight to the video review, click here.
General Product Details
This is an opaque thick, white cream that is meant to be used as a daily moisturiser that provides broad spectrum UVA/UVB protection at an SPF of 15. Fragrance-free, paraben-free PABA-free, tested for sensitive skin and allergies and supposed to provide 24 hour hydration. NOT vegan/natural/organic. The active sun protection ingredients are Avobenzone 2%, Ecamsule 2%, Octocrylene 10%.
Actives
Avobenzone – appears as other trademarked names including Parsol 1789. This is an oil-soluble compound that provides full spectrum protection against UVA rays, by absorbing rays and converting to another form of less harmful energy. UVA rays penetrate the deeper layers of the skin and are the responsible for skin cancer, premature aging and wrinkling.
Ecamsule – L'Oreal-exclusive ingredient in the US. Effective and provides additional protection from UVA radiation.
Octocrylene – Used to stabilise Avobenzone, and make it not degrade quickly, therefore making it a lot effective. It also has some emollient properties and helps the skin retain moisture. Octocrylene also absorbs UVA and UVB rays. UVB rays affect the top/outer layer of skin and is responsible for sunburns and is the biggest implicator for melanomas and other skin cancers.
Basically, all three of these ingredients provide an umbrella-like protection from UVA, UVB and free radical protection.
Packaging
Packaged in a white, plastic squeeze tube with a flip-top cap. Contains 3.4oz/100 g of product. The tube is made to stand up on your counter, which is good. I had no problems with dispensing product, even when the tube is almost empty.
Method of Application
Sunscreen is to be applied as the last step in skincare and needs time to absorb onto the skin be effective. The American Academy of Dermatology recommends that sunscreen should be applied at least 15 minutes before going outdoors and reapply at least every 2 hours or immediately after excessive sweating or swimming. This is not the thickest formula but not thin either. Very emollient.
Result/Conclusion
I love this product. I have been using this for years. More than 5 years. As mentioned in my video review (check it out!), there are few products that satisfy my sunscreen criteria. And this one does. It provides good hydration to my skin during the day although I usually add more layers of hydration from other products during cold, winter months. There are two main things that I would say are drawbacks and they are more of a personal thing.
1. This formula is marketed as light and non-greasy. I think this is more of a medium weight and those with oily skin probably would think that it is too heavy for daily use. It dries down to a glowy finish. I also think that it is too heavy to reapply if you are wearing foundation.
2. I wish this came in a higher SPF. I am not sure how increasing the SPF rating will affect the formula but it would be nice to get a wider variety of options that contain their Mexoryl SX ingredient. But I generally have no complaints.
Availability
In the US, available online at the La Roche-Posay US site and at most major drugstores, Target, Ulta and Amazon. I don't think this particular formula is available outside of the US because there are more options for innovative sunscreen ingredients.
Protect your skin!!!
Laters!
If you liked this post, make sure you sign up for my email newsletter by clicking HERE! Get the latest curated makeup, haircare & skincare news and see what beauty products that I loving at the moment!
FTC Disclosure: Products were purchased by me, Noire Tropical Beauty. All opinions expressed are 100% honest and my own. I have not been compensated for this review. For more information, please see my Disclosure Policy.