I have been natural since 2008 and I immediately began to search for products that were gentle, suitable for naturally kinky hair and made of natural ingredients. Back then, there were not a whole lot of options but I discovered the Aubrey Organics GPB Balancing Protein Conditioner at Whole Foods.
But why do a protein treatment? Hair is made up of chains of proteins. And the chains are made of up layers. The top layer of hair reminds me of fish scales. When they all overlap properly the hair feels smooth and it efficiently retains its moisture. When we manipulate our hair by combing, braiding, dyeing etc., the outer layer can become damaged and the ends can split. The outer layer can lose its 'scales' and there will be breaks or gaps on the surface of the strand. Adding a protein treatment can repair and fill in some of the spaces or holes in the hair.
Aubrey Organics GPB Conditioner – Video
If you want to head straight to the video review, here you go. Otherwise keep scrolling for photos and more details.
Aubrey Organics GPB Conditioner – General Product Details
Aubrey Organics' GPB Balancing Protein Conditioner is a pale yellow, thick creamy product with a slight pearlescent sheen. Very mildly scented. Naturally sourced ingredients and it is vegetarian (not vegan), gluten-free, paraben-free, phthalate-free and cruelty-free. It also contains 70% organic ingredients.
The most noticeable ingredients are two proteins and a hydrator. Glycoproteins and milk proteins are the strengthening and repairing factors and aloe vera provides hydration.
Aubrey Organics GPB Conditioner – Packaging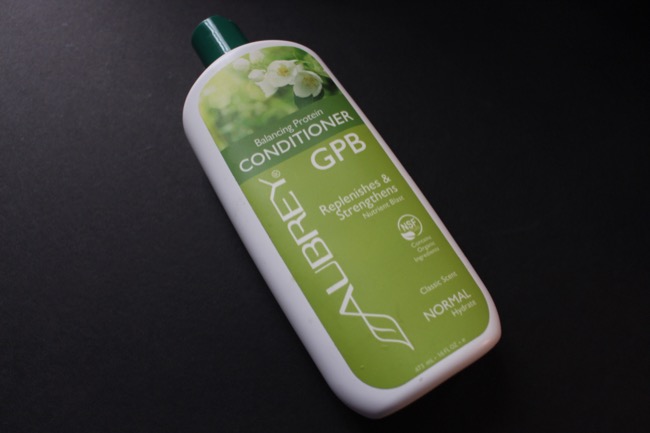 Comes in a classic plastic squeeze bottle that is recyclable. I have no problems with dispensing the product.
Method of Application
After cleansing my hair, I apply a generous amount of the product to my hair. It is thick enough that it does not drip. I keep this on anywhere from about 15 mins to half an hour with a plastic shower cap.
Results/Conclusions
I love this product. It is my preferred protein treatment. What I really like about this product, is that it does not leave my hair hard. When I was relaxed, I used protein treatments that you would sit under the dryer and it would harden to a shell and you had to be careful when rinsing as it could break the hair strands. Also I hated the smell. The GPB Conditioner is pleasently scented. I also like that it is leaves my hair feeling relatively soft and not dry but I always, and it is recommended that you follow up a protein treatment with a deep hydrating treatment. I use this every 3-4 months and I would not use this on a weekly basis as it will over treat the hair making it hard, prone to breakage and ineffective in absorbing and retaining moisture. I will continue to use this product. I have also used other products from Aubrey Organics and have enjoyed them.
Availability
This is readily available in stores that carry natural haircare products, such has Whole Foods, beauty supply stores and online. It costs about USD$11. See aubreyorganics.com for places to shop.
If you liked this post, make sure you sign up for my email newsletter by clicking HERE! Get the latest curated makeup, haircare & skincare news and see what beauty products that I loving at the moment!
FTC Disclosure: Products were purchased by me, Noire Tropical Beauty. All opinions expressed are 100% honest and my own. I have not been compensated for this review. For more information, please see my Disclosure Policy.