Hey!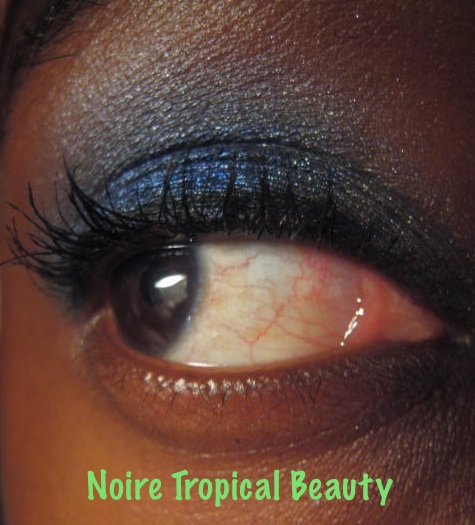 Here's my most recent look.  I used a very popular M.A.C. mineralized eyeshadow in Sea and Sky. Sea and Sky came out I think last year as one of the summer collections.  It's a duo with a light blue marbled side (Sky) and a deep, bright blue.  I also used a popular technique that intensifies eyeshadows called foiling.
Foiling makes an eyeshadow look like liquid metal…or like the shiny, high gloss surface of foil paper. Not all shadows can be foiled.  For one, you generally only use shadows that can be used wet, loose shadows like M.A.C. Pigments and baked, mineralized shadows like M.A.C. mineralized eyeshadow and Urban Decay Baked shadows.  Do not use regular pressed shadows unless you are specifically told that its ok. Wetting these shadows can destroy them.
Secondly to get that shiny look, you need to use shadows that have shimmer or glitter in them. Can't really use a matte colour to create shine (that totally defeats the point mattes!!!)
Lastly you need to use some kind of fluid to liquify the shadow, usually water-based, but whatever  works for you.  Two of the most popular media are M.A.C.'s Fix+ and water-based Mixing Medium.  Some people make their own using a mix of water and glycerin.  I use Mixing Medium, but everyone talks about Fix+.  I'm going to have to get it!!!
Enough chat!!!!! On to the look!
The Tools
Too Faced Shadow Insurance (TFSI)
M.A.C. Paintpot in Delft
M.A.C. Mineralized Eyeshadow in Polar Opposites (From the Electroflash Collection, Summer 2008)
M.A.C. Mineralized Eyeshadow in Sea & Sky (From the Electroflash Collection, Summer 2008)
M.A.C. Eyeshadow in Waft (from the Gentle Fume Quad, Smoke Signals Collection, August 2007)
M.A.C. Eyeshadow in Rondelle (from the Gentle Fume Quad, Smoke Signals Collection, August 2007)
L'Oreal HiP Kohl eyeliner in Black Kohl
Maybelline Lash Stiletto Mascara in Very Black (the BEST mascara for the year so far!!)
M.A.C. Mixing Medium (water-based)
M.A.C. brush in 224
Sonia Kashuk small shader brush
The Details
Apply thin layer of TFSI with the ring finger to the entire eyelid
Using ring finger or stiff brush like M.A.C.'s 242 or 252, apply Delft all over the eyelid, over the TFSI, to bring out the intensity of the blue.  This step is optional.
Using the 224 brush, use the bright silver from the Polar Opposites duo MES, to the inner third of the upper eyelid.  The Delft will darken this colour a little bit. You could also use the light blue melange (Sky) side of the Sea & Sky MES.
If you are using the Mixing Medium, shake the bottle well, apply 2 drops to a clean surface, like a mixing palette, and dip the Sonia Kashuk brush (or M.A.C.'s 239, 242 or other stiff brush) into the meduim.  Then dip the brush a few times into the bright blue side of Sea & Sky to make sure the brush is coated.  Apply this colour over the mid and outer eyelid, from lashline to crease.  You can see how shiny and bright that blue colour is!  Blend well, using a circular motion, before the shadow dries.  If you are using Fix+, spray your brush once or twice then dip it into the MES.
To further blend out the blue, and to add more depth, use Waft or any dark, grey eyeshadow in the middle and outer crease with the 224 brush.  Blend, in circles, from the crease to the browbone to soften the grey shadow.
Use Rondelle, which is a darker silver, in the browbone as a highlight and blend into the Waft using the 224.
Apply the Kohl powder liner to the upper lashline
Apply a few coats of mascara
A few notes…..
When wetting eyeshadows, leave the container open for 24 hours to allow them to dry properly so they won't mould.
You could make this look more intense by adding liner to the lower waterline and adding some of that blue to the outer lower lashline!