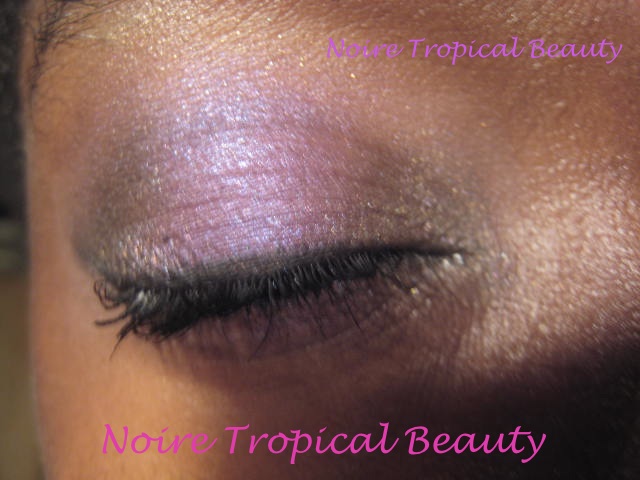 Hi Ladies!!!
Here's a look that I recently did for a night out.  This is a good way to get a pop of colour on your lids if you are afraid to do so.
Products used:
Too Faced Shadow Insurance
M.A.C. Brushed Metal X Cream Shadow in Guilded Ash
NARS Eye shadow duo in Jolie Poupee
M.A.C. Pigment in Sweet Sienna
M.A.C. Kohl Power Eye Pencil in Feline
Givenchy Magic Kajal in #1
Maybelline Lash Stiletto in Very Black
M.A.C. Brow Finisher in Clear
M.A.C. brushes in # 217, 219, 224, 239
The Details…
Apply a pea sized amount of Too Faced Shadow Insurance all over each eyelid up to the browbone, using your ring finger or a stiff brush.
Taking the NARS Jolie Poupee and using the shimmery purple colour, use a firm, fluffy brush like M.A.C.'s 217 and apply to the center of the lid, above the iris, from lashline to crease. Blend the edges using soft, circular motions.
Taking M.A.C. Gilded Ash, using ring finger, apply a small amount to either side of the NARS colour, i.e. to the inner eyelid and the outer eyelid and blend this colour out above the crease.
Taking M.A.C. Sweet Sienna and # 239, apply over the Guilded Ash in a soft, patting motion and blend into the crease and the purple shadow so there are no harsh lines.
Take a soft brush like M.A.C.'s 224 and apply Sweet Sienna below the browbone and blend into the crease.  This is the highlight colour.
Apply M.A.C. Feline to the upper lashline
Apply same three colours to the lower lid – Sweet Sienna to inner lower lid, Jolie Poupee to the mid lower lid and Guilded Ash to the outer lid and blend them well.
Apply Givenchy Magic Kajal to the lower waterline and use ring finger or M.A.C. 219 to smudge a little.
Apply 2 coats of Mascara to upper and lower lashes.
Apply Brow Finisher to eyebrows to keep them in place.
Dupes and Substitutions:
The shimmer side of Jolie Poupee is a beautiful bright purple colour with red undertones.  Any bright colour could be used in its place.  Other purples to try would be Make Up For Ever's # 92, M.A.C.'s Parfait Amour or Vibrant Grape.
Any gray colour could be used in place of the Guilded Ash and Sweet Sienna, such as, M.A.C. Mothbrown, gray side of M.A.C.'s MES* in Earthly Riches or melange side of MES Polar Opposite.
*MES – Mineralized Eye Shadow
Enjoy!