I am continuing my quest for finding the best chemical sunscreens for dark skin. Today I am reviewing the Supergoop Unseen Sunscreen SPF 40 PA+++. I have heard a lot about this brand and they have carved out a specific space in skincare/beauty, where they consider themselves as sunscreen experts and they focus on making high quality, luxe sunscreen products. They have a myriad of offerings – mineral and chemical sunscreens, powders, creams/gels, stick, spray, face, body and baby. As you all know, wearing sunscreen is very important even if you have darker skin. I found this product at Sephora after browsing all of the different formulas. It is broad spectrum so it protects against UVA and UVB radiation. Unseen has a cult following and has even won an Allure Best of Beauty Award in 2018. Honestly, what attracted me to this product, was the name – Unseen. Yes, even in 2019, there are lots of sunscreens that I cannot wear (mostly mineral sunscreens) that still leave an ashy/white cast on my skin. I picked up a sample from Sephora and tried it out for a week before I bought it, to make sure that I was not allergic to it.
Tip: You can pick up a free sample of almost any product at Sephora before you buy!
Click To Tweet
Supergoop Unseen Sunscreen – Basics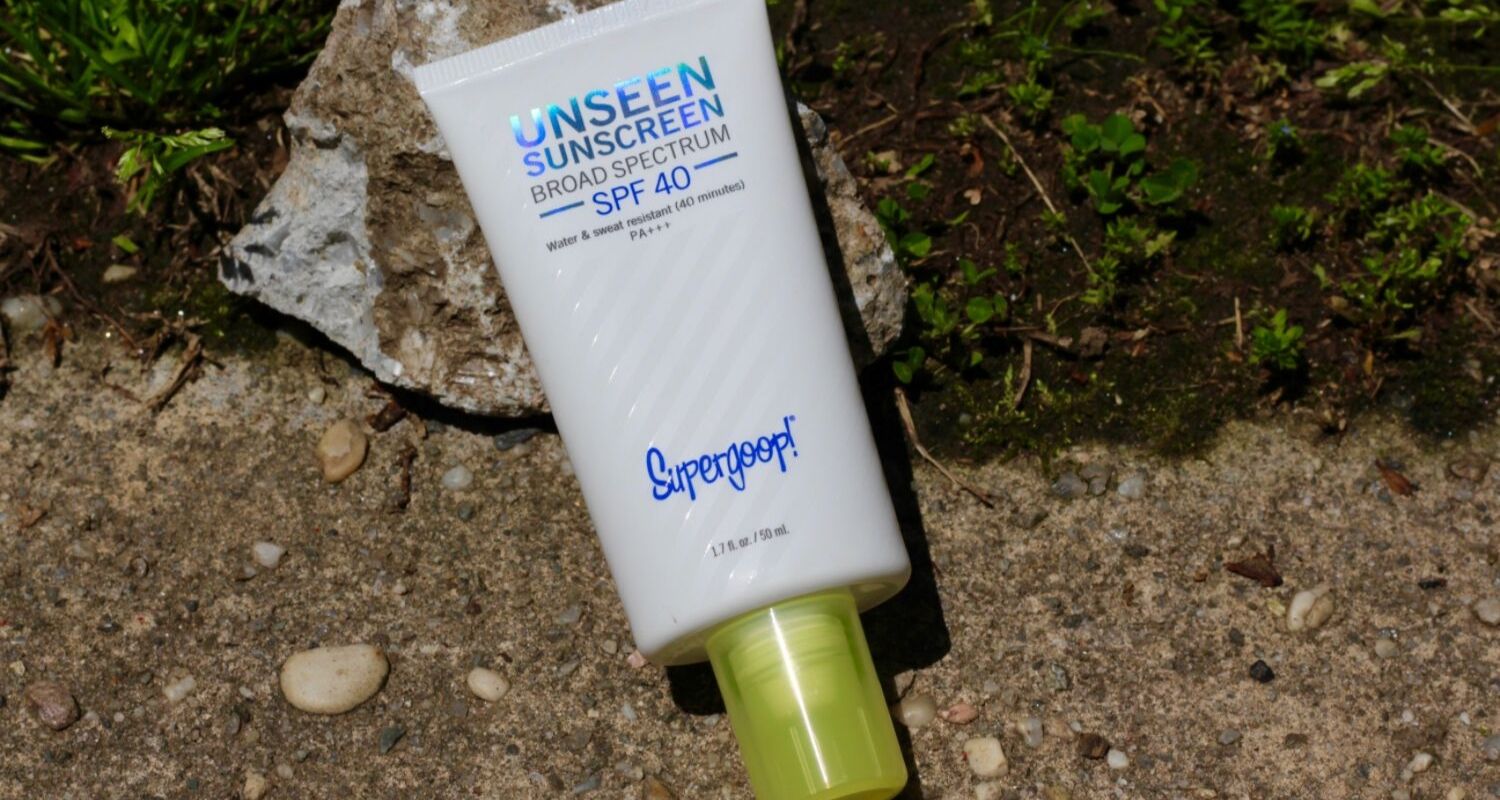 Supergoop Unseen Sunscreen is described as a broad spectrum, invisible, gripping primer for face that you can wear under makeup or alone. It's a chemical sunscreen in an SPF 40, PA+++ with four commonly used sun filters. It is interesting that the PA rating is listed as it is not usually seen on sunscreens in the US but very common on sunscreens in Asia. SPF gives you an indication of how well it protects against UVB radiation and PA rating (which goes from 2+ to 4+) gives an indication of protection against UVA radiation.
Supergoop Unseen Sunscreen – Other Details
Suitable for all skin types – dry, oily, normal and combination
Oil Free
Scentless and weightless
Vegan, gluten and cruelty free
Paraben-free, oxybenzone free
Part of the 'Clean At Sephora' programme
Supergoop Unseen Sunscreen – Benefits
Meadowfoam Seed Complex – helps with hydration of the skin resulting in a more balanced skin texture
Red Algae – helps absorbs the blue light from our electronic devices, which may help contribute to aging of the skin
Frankincense – helps to soothe the skin
Antioxidant rich – helps protects against free radicals that can form in the presence of UV light. This helps amplify the effect of the sunscreen.
Water resistant for 40 minutes
Supergoop Unseen Sunscreen – Thoughts and Conclusions
This is really invisible as you can see.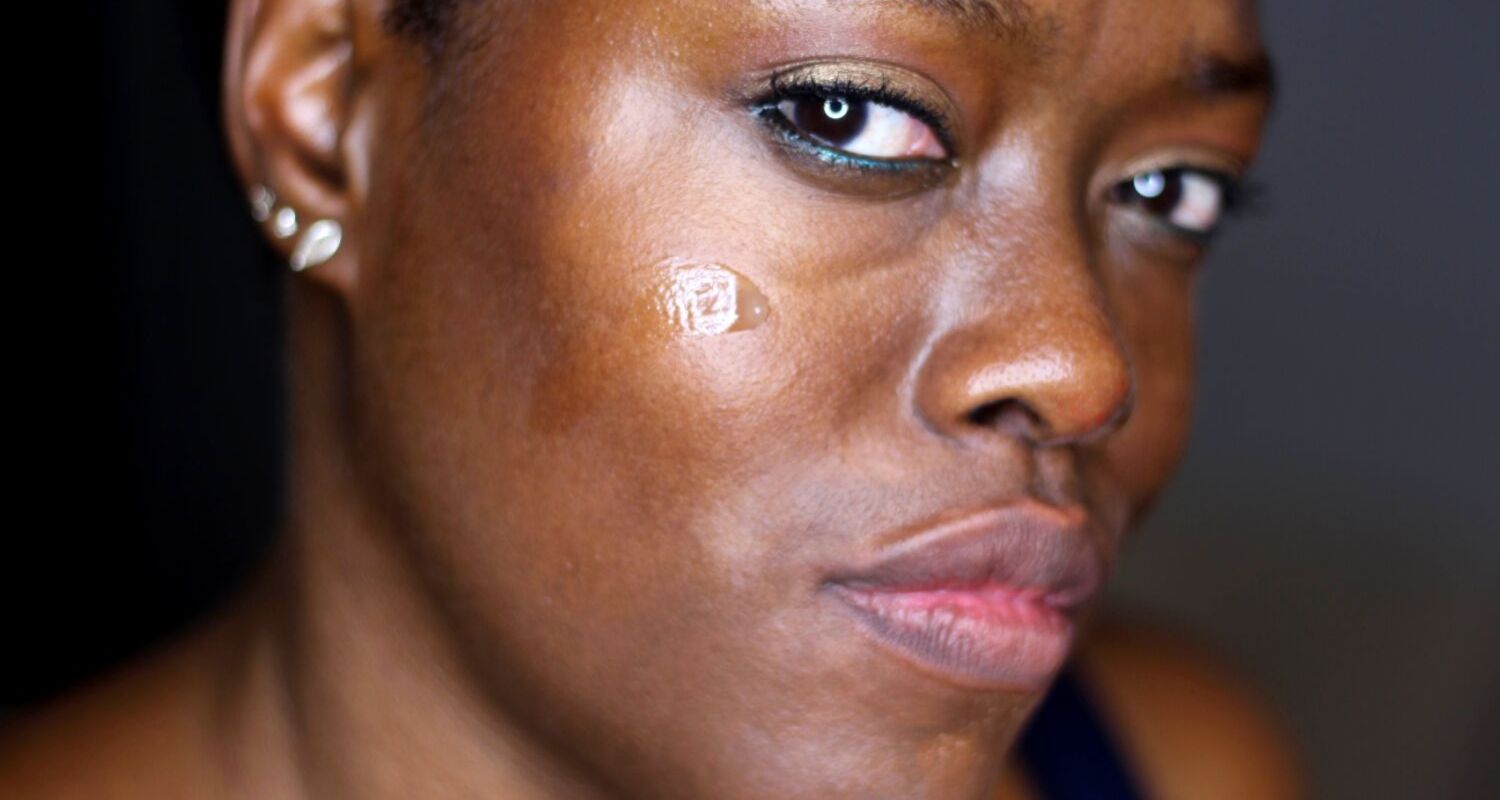 I barely need to rub it into my skin and it melts and completely disappears. It is very lightweight and it has a very smooth texture (it does contain silicones). It leaves a soft matte or velvet finish and I did not feel sticky, heavy or occlusive in very hot, humid weather. I would not say that it mattifies the skin but it does not add sheen to the skin. I have dry skin and I always use a moisturizer underneath and this is my last skincare step. If you have very oily skin or want a lot of blurring of the skin, I would be very careful in adding too many additional layers, especially in warmer, humid weather. Using something like a mattifying lotion before applying Unseen. If you must use another primer, use it very sparingly only in the areas most needed and after you have applied Unseen. Remember the goal is to protect the skin first.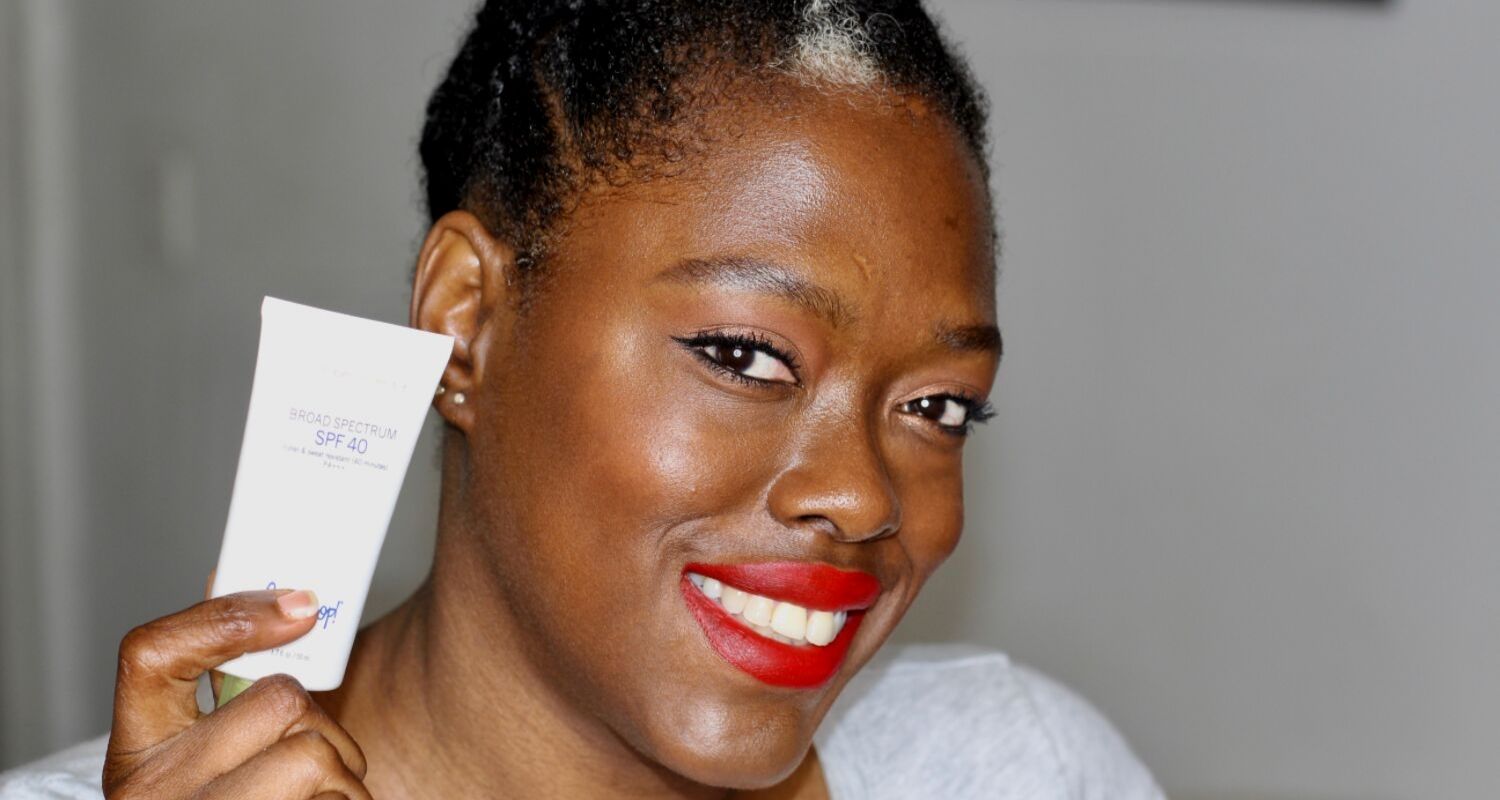 I wore it both with and without makeup in mild and hot/humid weather. It appears to have held up well. My makeup did not separate or melt off. Note that if you are outdoors, you should reapply after 40 minutes especially if you sweat or go swimming. If you are in your office all day, then you can extend the time between reapplication.
Supergoop Unseen Sunscreen – Packaging
Unseen comes in a white tube with a bright yellow screw cap and navy blue accent lettering. The words "Unseen Sunscreen" are in a gorgeous silver holographic ink. Love this packaging as it really reads summer to me. It looks like something that I would want to throw in beach bag. Since the formula is a gel, the tube is a squeeze tube and you don't have to worry about it separating. The opening of the tube is just small enough that it gives you good control on how much product comes out at a time. I picked up the 1.7fl. oz size which will fit in your 311 bag. I also got no flashback in photographs.
Supergoop Unseen Sunscreen Video
Here's my review of this product with a demo application.
Supergoop Unseen Sunscreen – Conclusion
I really like this sunscreen. This will be in regular rotation for me. It is truly invisible or 'unseen' and I am thinking that I will check out their other chemical sunscreens. They have a very interesting clear stick balm that will be great for my face and a SPF body oil. If you have tan to dark skin especially, check out Supergoop! If you are looking for variety in your sunscreen formulas, definitely check them out!
Supergoop Unseen Sunscreen – Availability
This is available on their website Supergoop! or at Sephora* for US$32
Let me know if you have tried it.
Laters!
If you liked this post, make sure you sign up for my email newsletter by clicking HERE! Get the latest curated makeup, haircare & skincare news and see what beauty products that I loving at the moment!
FTC Disclosure: Products were purchased by me, Noire Tropical Beauty. All opinions expressed are 100% honest and my own. I have not been compensated for this review. For more information, please see my Disclosure Policy.
Affiliate Links
The following links are affiliate links. If you sign up using these links, I will get a small percentage of a purchase and/or referral credit. These links provide discounts or cashback, when available. There is no requirement or obligation to use these links. If you need more information, please see my Disclosure Policy.
*Ebates – use this to get cashback online or in-stores on select, qualifying purchases. Great for using at Sephora, Sally Beauty and hundreds of sites! https://www.ebates.com/rf.do?referrerid=EGx%2B1ltzid8P9uPThgCQxA%3D%3D&eeid=29041
*Join Honey – use this to find discounts on sites visited joinhoney.com/ref/qpwfsu